Suga Urges People To Reduce Social Contact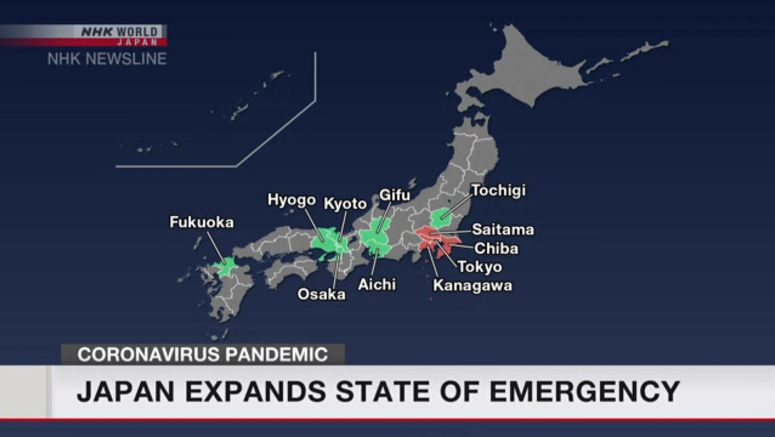 Japanese Prime Minister Suga Yoshihide has urged people to reduce social contact as much as possible to help stem the spread of the coronavirus.
He made the request at a news conference on Wednesday after expanding the state of emergency to seven more prefectures earlier in the day.
Suga said anti-infection measures under the expanded emergency declaration are the same as the ones that were initially announced last Thursday.
He said the steps are asking dining establishments to close by 8 p.m., requesting business operators to cut the number of commuters by 70 percent by using telework, urging people to refrain from nonessential outings particularly from 8 p.m., and limiting the number of spectators at sports games, concerts, and other live events.
Suga referred to areas that are not subject to the emergency declaration but are seeing their infection status approaching the highest level on the government advisory panel's four-tier alert scale.
Suga said the government will provide them financial support if their local governments issue those four requests that are in place under the emergency declaration. He said the level of aid will be the same as assistance for prefectures covered by the emergency declaration.
On top of those requests, Suga asked people to refrain from unnecessary outings during the daytime.
He also urged customers at restaurants and bars to avoid high-infection-risk behavior, such as speaking loudly and ignoring social distancing, even if they dine before 8 p.m.
The prime minister called on people to see if their actions are in line with anti-infection guidelines.
Suga said the number of people in their 30s or younger confirmed infected with the virus has been growing recently. He said many of them develop no or mild symptoms but are spreading the virus unwittingly when they are outside their homes or at restaurants and bars.
Suga said the government will suspend its exemption that allows the entry of business travelers and others from 10 countries and Taiwan.
Suga said the suspension will take effect as soon as the government completes arrangements with the authorities of those areas. He said the suspension will continue for as long as the emergency declaration is in effect.
The prime minister said no arrivals from those areas have tested positive for any new strains of the coronavirus.
But Suga said that people are increasingly worried about the serious domestic situation as well as recent cluster infections involving a returnee from the UK and the detection of a coronavirus variant in four arrivals from Brazil. The strain was confirmed different from those found in the UK and South Africa.
Suga said the government is taking people's concerns very seriously.