Suga Visits Fukushima Prefecture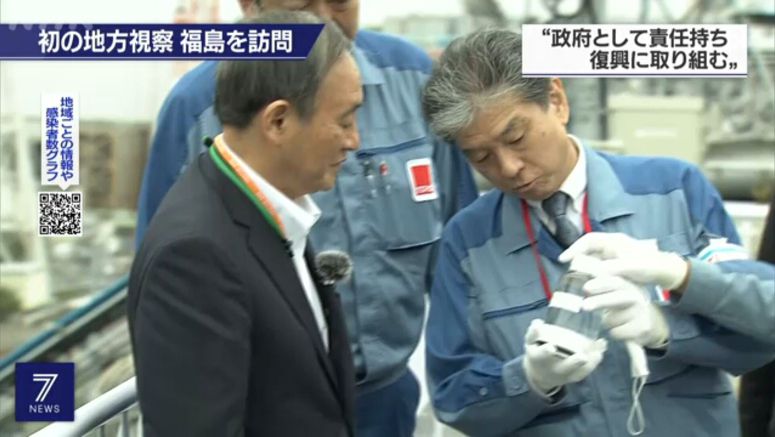 Japan's Prime Minister Suga Yoshihide has vowed that the government will do its utmost to support the recovery of the areas hit hard by the 2011 earthquake and tsunami.
Suga visited Fukushima Prefecture on Saturday to inspect the crippled Fukushima Daiichi nuclear power plant and other sites. It was his first regional visit since assuming the post.
Suga arrived in Okuma Town, which co-hosts the nuclear facility, shortly after 11 a.m.
After going around the premises on a bus, he got out at a site overlooking the No.1 to No.4 reactors, and inspected the ongoing decommissioning work.
The Japanese government has been studying ways to dispose of radioactive wastewater that has accumulated at the plant.
Much of the accumulated water has been used to cool molten nuclear fuel from the accident. Most of the radioactive materials in that water have been removed before being stored in tanks. But the treated water still contains tritium and some other radioactive substances.
Suga held a container with treated water inside while he was briefed by an official of the plant's operator, Tokyo Electric Power Company.
He said the decommissioning will take a long time to complete and asked that it be carried out safely and steadily. He also pledge that the government will do all it can to support the work.
After completing his tour, Suga told reporters that he had chosen Fukushima Prefecture as the destination of his first regional visit since taking office.
He said that he had confirmed the decommissioning work at the Fukushima Daiichi plant is progressing safely and steadily.
He pledged that the government will do its utmost to help both the recovery of the disaster-hit areas and the decommissioning of the nuclear facility.
Regarding the wastewater, the prime minister said the government plans to decide as soon as possible how to dispose of it.
Suga also referred to municipalities near the plant that have been designated no-entry zones. He pledged to work hard so that the evacuation orders will be lifted and residents can eventually return to their homes.