Suga, Xi Agree On Close Cooperation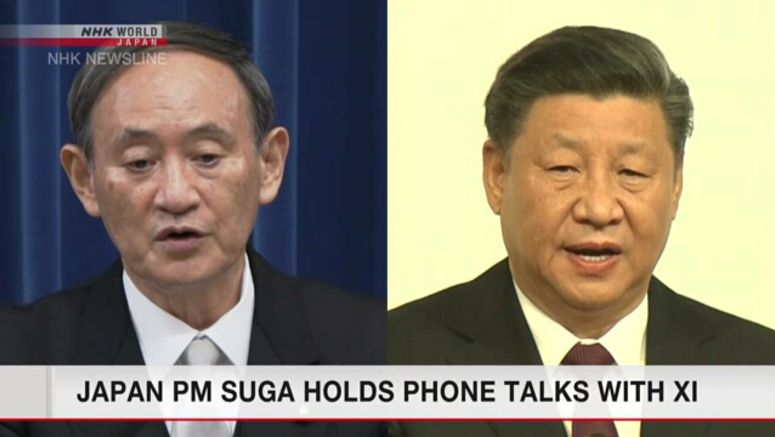 Japanese Prime Minister Suga Yoshihide has spoken with Chinese President Xi Jinping by phone for the first time since taking office last week.
He spoke to reporters after the talks on Friday.
Suga said, "President Xi and I agreed to continue to work closely in dealing with various bilateral, regional and global issues at high levels, including directly between the leaders."
Suga said Xi indicated his desire to further develop ties with Japan.
The prime minister said he responded by pointing out that a stable Japan-China relationship is extremely important for the region and the world.
The two leaders confirmed that they will work together across various channels to fight the coronavirus. They also agreed to continue talks toward an early resumption of business travel between the two nations.
The Chinese leader was scheduled to make a state visit to Japan in April, but it was postponed due to the coronavirus.
Suga said they didn't discuss the matter on Friday.
The prime minister expressed concern about the current situation in the East China Sea.
Japan has lodged protests over Chinese government ships repeatedly entering waters around the Senkaku Islands in the East China Sea.
Japan controls the islands. The government maintains they are an inherent part of Japan's territory. China and Taiwan claim them.
Suga also told Xi he wants to discuss major concerns for the region and the international community. He was apparently referring to a national security law that Beijing imposed on Hong Kong in June.
Hong Kong authorities have since arrested several prominent pro-democracy activists.