Suga's Cabinet Approval Rate Rises To 40%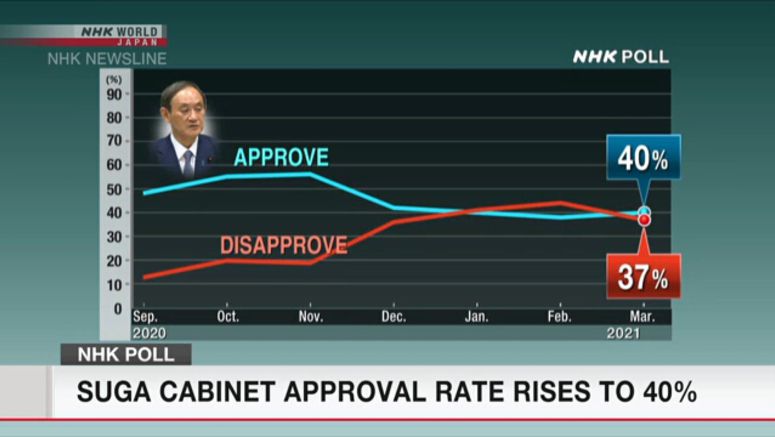 The latest NHK opinion poll shows that the approval rate for the Cabinet of Prime Minister Suga Yoshihide exceeded the disapproval rate for the first time in three months.
The telephone survey was conducted over the weekend. More than 1,200 people responded.
The Cabinet approval rate stood at 40 percent, up 2 percentage points from last month. The disapproval rate was 37 percent, down by 7 points.
The approval rate surpassed the disapproval rate for the first time since December last year.
Japan started its coronavirus vaccination program in mid-February.
Asked whether they want to get vaccinated, 67 percent of the respondents said they do, and 21 percent said they don't, while 13 percent said they don't know or gave no answer.
The International Olympic Committee, as well as related bodies in Japan, are now making preparations for the Tokyo Olympics and Paralympics, based on the assumption the Games will be held this summer.
Asked about in which form the Games should be held, 5 percent said the same way as before, 34 percent said spectator numbers should be capped, 19 percent said no spectators should be allowed, and 33 percent said the Games should be cancelled.