Sweltering Heat Wave Continues In Most Of Japan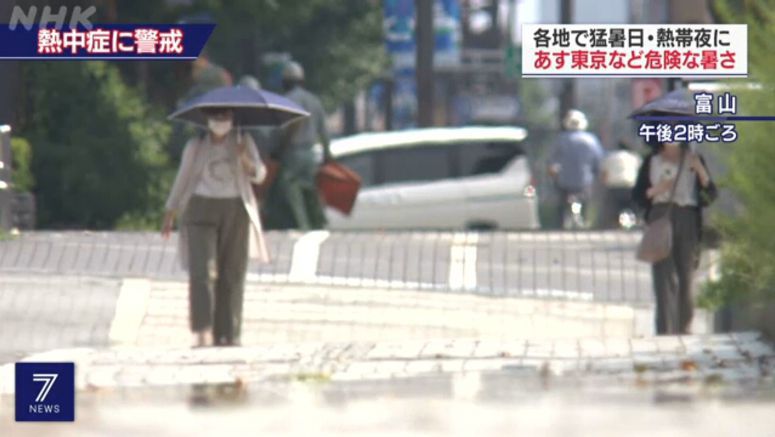 Japan continued to experience a sweltering summer heat wave on Thursday with daytime highs of over 35 degrees Celsius recorded in many areas.
The Meteorological Agency says a high pressure system covering vast areas from western through northeastern Japan, combined with an influx of warm air, is bringing clear skies and high temperatures to the archipelago.
Temperatures rose to 37.5 degrees Celsius in Toyama City in Toyama Prefecture, 37.2 degrees in Toyooka City, Hyogo Prefecture, and 36.7 degrees in Yonago City, Tottori Prefecture.
A high of 34.5 degrees was recorded in Nagoya City, Aichi Prefecture, 34.1 degrees in Osaka City, Osaka Prefecture, and 33.1 degrees in central Tokyo.
Temperatures of 30 degrees or higher were recorded at 660 observation points in the country's network of 921 locations.
Temperatures are unlikely to drop below 25 degrees overnight through Friday over a wide area and the scorching weather is expected to continue.
A high of 37 degrees is forecast for Saitama City, Saitama Prefecture, 36 degrees for Kyoto City and central Tokyo, 35 degrees for the cities of Okayama, Nagoya and Fukushima on Friday.
New information bulletins called Heat Illness Alerts have been issued for the first time for Tokyo, Chiba and Ibaraki Prefectures.
People are advised to use air-conditioning indoors and avoid direct sunlight when outdoors.