Tokyo Confirms 67 New Coronavirus Cases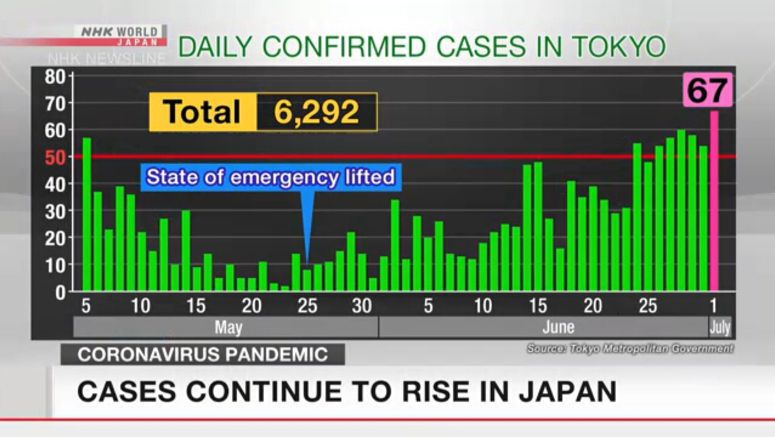 The number of coronavirus cases in Japan continues to rise, particularly in Tokyo.
Officials confirmed 67 new infections in the capital on Wednesday. That's the highest figure since a nationwide state of emergency was lifted in late May.
The daily tally in Tokyo has now topped 50 six days in a row. In total, nearly 6,300 people have tested positive in the city of about 14 million people.
The government's new panel of experts met for the first time to assess the effectiveness of anti-coronavirus measures.
The members include Nobel Prize laureate Yamanaka Shinya.
He has become a key figure since the outbreak began... launching a website with the latest information and making frequent media appearances.
The minister in charge of the country's coronavirus response says cooperation is essential to prepare for a possible surge in infections.
Economic Revitalization Minister Nishimura Yasutoshi said, "We have prevented a disastrous epidemic so far. Based on that experience, as well as new findings, we want to keep improving our measures."
The government plans to use the world's fastest supercomputer to simulate how the virus could be transmitted through droplets.
The panel will use the data to help guide the government's ongoing strategy.