Tokyo Gov. Outlines Business Shutdown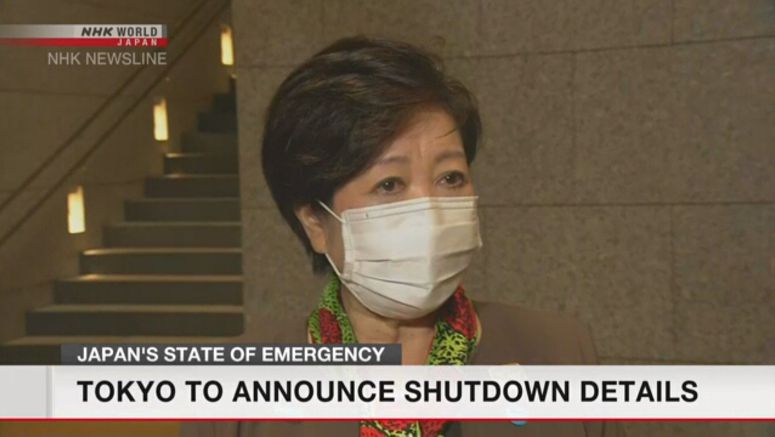 Tokyo Governor Koike Yuriko has outlined which businesses will be asked to shut down operations, starting Friday at 12 a.m., as part of the metropolitan government's policy to help contain the spread of the coronavirus.
The list includes all educational facilities, karaoke bars, pachinko parlors, sports clubs, theaters, internet cafes and game centers. Restaurants and bars can stay open, but they will be asked to close early each day.
Koike says businesses that abide by the request will be eligible for financial aid.
Essential services like supermarkets, public transit and hotels will remain open.
The announcement comes three days after the central government declared a state of emergency for Tokyo and six other prefectures.
Governors in other parts of the country have declared an emergency on their own, or have asked the central government to extend its declaration to their prefectures.
Aichi Governor Omura Hideaki said, "We have taken into consideration the number of infected people across the country, and in Aichi Prefecture. So I am issuing an emergency declaration to prevent the spread of the virus."
Omura is asking residents to refrain from going out or traveling unless it is absolutely necessary. The measure will remain in effect until May 6. That's the same date the central government's state of emergency is set to expire.
Gifu prefecture also issued a similar declaration on Friday.
Meanwhile, Kyoto's governor has asked the central government to declare a state of emergency in his prefecture. He says the number of untraceable infections is increasing there. And he is urging residents to stay home.
Over 570 infections were reported across Japan on Thursday. More than 5,500 people have now tested positive, including those who returned on chartered flights from other countries.
The tally does not include 712 cases linked to the Diamond Princess cruise ship, which was quarantined near Tokyo earlier this year.
119 people have died across the country, including 11 from the ship.