Tokyo Governor: Stay Home This Weekend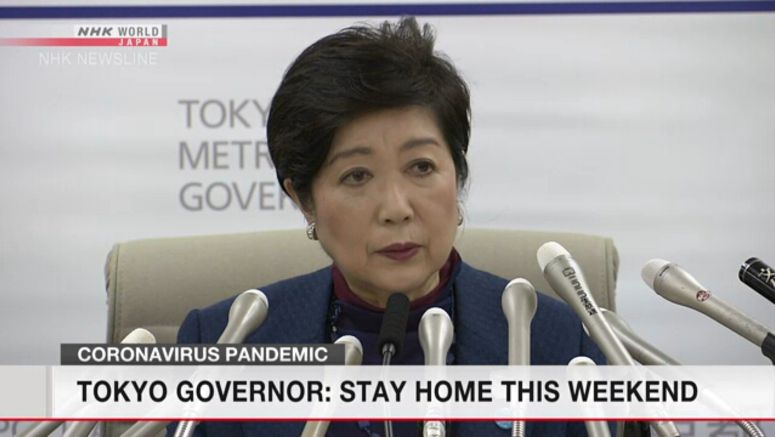 Tokyo's governor is urging residents to stay home this weekend unless they absolutely must go out. The call comes after officials confirmed more than 40 new cases of the coronavirus on Wednesday ... the largest one-day spike the city has seen so far.
Yuriko Koike told reporters on Wednesday, "We are now at a critical juncture. We want Tokyo residents to realize this and do their work at home as much as possible on weekdays ... though we understand that may not be possible depending on your line of work. We want people to refrain from going out at night. We also want residents to refrain from going out this weekend, unless it is urgent."
Koike said the capital is facing the risk of an explosive spread of infection.
She called on people coming back from abroad to abide by the 14-day self-quarantine rule. Five of the newly confirmed cases were people who recently returned from overseas.
Eleven others have been tied to a hospital where a nurse and a patient were confirmed infected on Tuesday.
Tokyo reported a record number of infections for three straight days through Wednesday. Sixteen were confirmed on Monday and 17 on Tuesday.
People in Tokyo voiced concern about the governor's move.
A man said, "Infections have grown because many people were careless and went out to places like parks last weekend. We must be careful again."
An After-school childcare worker said, "Children have been feeling stressed because they can't go out. And parents will also get more stressed if the situation continues. So I think it's unrealistic to stop them from going out."
More than 1,300 cases were reported in Japan as of 11 PM Wednesday. That does not include the over 700 cases from the Diamond Princess cruise ship.
Forty-five people have died... as well as 10 from the cruise ship. More than 900 people have recovered and left hospital.