Tokyo Moves Mild - Symptom Patients To Hotel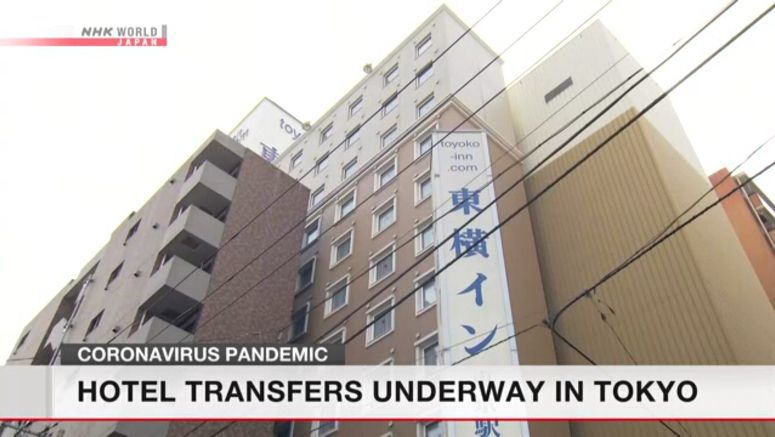 The Tokyo Metropolitan Government has begun moving people who have tested positive for the new coronavirus but have only mild or no symptoms to a hotel.
The government rented the budget hotel in central Tokyo to temporarily accommodate such patients.
The first group of 11 patients arrived at the hotel on Tuesday. About 100 are expected to stay there.
The 12-story hotel has allotted rooms on the fourth floor and above for the patients. Metropolitan government officials and nurses are to be standing by around the clock, with a doctor on hand during the day.
The patients' temperatures and health conditions are to be monitored daily.
They will be asked to stay in their rooms and go get their own boxed meals at the front desk on the first floor. Notices asking patients not to walk around have been put up in the hallways.
The metropolitan government is paying for their stay. The patients are to be discharged if they test negative for the virus twice in a row, 24 hours apart. They are expected to stay at the hotel for about one week on average.
The Tokyo official in charge of infectious diseases, Okamoto Kaori, said the government will first acquire knowhow at the hotel and expand the effort to help divert medical care to patients in more serious condition.