Tokyo, Osaka Report More Than 200 New Cases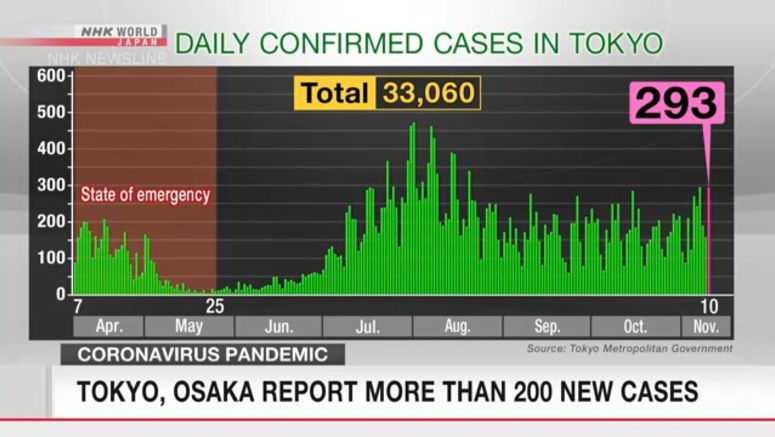 The coronavirus continues to spread in Japan, with several prefectures reporting more than 100 cases on Tuesday.
The daily tally in Tokyo topped 100 for 8 days in a row. The number of cases tends to be low on Monday and Tuesday because fewer virus tests are conducted over weekends.
Osaka reported 226 cases, the second highest ever for the western prefecture. More than 14,000 people have now been infected there.
The governor of Hokkaido, in the north, is worried about a recent surge in cases.
Suzuki Naomichi told Prime Minister Suga Yoshihide that he will deal with clustered infections more quickly, increase hospital beds, and secure more hotel rooms to isolate people with mild symptoms.
The governor asked for assistance from the central government, warning there could be a shortage of health officials if infections spread throughout Hokkaido.
Suzuki said, "The prime minister told me the government will work together to deal with the situation. We will do whatever we can to contain the spread of the virus by the end of November."
The prime minister referred to the government's domestic travel promotion campaign, known as Go To Travel.
Suga said, "We're monitoring the situation and we will carry out the campaign, taking into account experts' views. Currently, we do not plan to exclude Hokkaido from the program."
He attended a government task force meeting later in the day.
Suga said, "The number of new infections has exceeded 1,000 several times in recent days. We need to be on the highest alert."
The prime minister told officials to do all they can to prevent the spread ahead of the winter, while maintaining social and economic activities.
Across Japan, more than 110,000 people have been infected. Over 1,800 have died.