Tokyo Renews Coronavirus Record With 472 Cases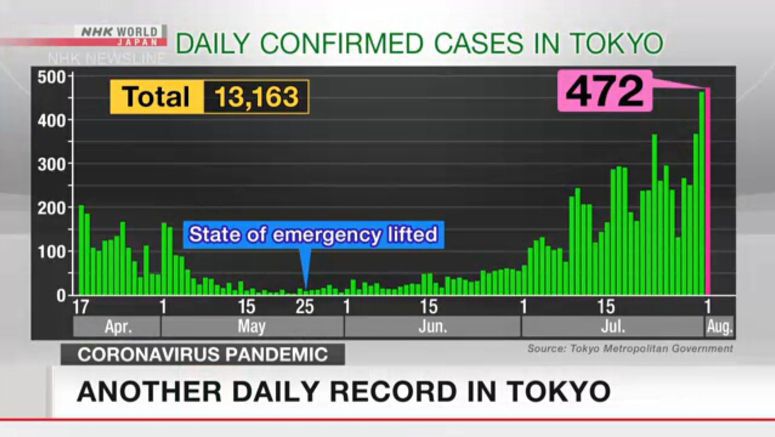 Tokyo reported a record 472 new cases of the coronavirus on Saturday. The daily tally in the Japanese capital topped 400 for the second day in a row. That puts the total number of infections in Tokyo more than 13,000.
Tokyo officials say the increase may be due to outings during the 4-day holiday last month.
They are asking people to refrain from eating and drinking in groups. Authorities are also calling on individuals to avoid speaking at close range, even with a few other people.
On Monday, the Tokyo Metropolitan Government plans to ask the owners of karaoke bars and restaurants that serve alcohol to shorten their business hours.
Nationwide, more than 1,500 new infections were reported on Saturday.
Officials confirmed nearly 200 cases in the western prefecture of Osaka. Over 180 were reported in Aichi Prefecture, central Japan.
However amid the pandemic, a Kabuki theater in Tokyo has reopened after five months. Each spectator has to maintain a distance from others. Seats near the runway and those closest to the stage are not being used.
Fans are also being asked to refrain from shouting in the traditional way during a performance. Many regard the act of shouting as one of the delights of watching kabuki.
Musicians and "nagauta" singers are now required to wear custom-made black masks. The seats will also be disinfected after each performance.
A female spectator said, "I hope Kabuki performances will gradually return to normal. Today's show was wonderful."
Kabuki actor Matsumoto Koushiro said, "I know that many people were looking forward to seeing Kabuki, so I'm glad we were able to do this. I hope people will enjoy the new performance."