Tokyo Reports 534 New Cases, Raises Alert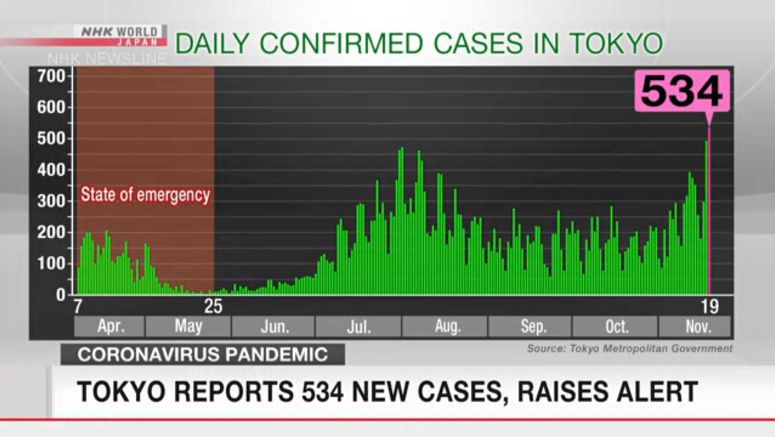 Tokyo Metropolitan Government officials confirmed more than 500 new cases of the coronavirus on Thursday, the most ever reported in a single day. Tokyo has risen its alert to the highest of four levels, for the first time since September.
Tokyo confirmed 534 new cases across the capital on Thursday.
Daily cases nationwide surpassed 2,000 this week, prompting concerns about a third wave.
Tokyo officials and infectious disease experts met Thursday to discuss the situation. Officials say the latest seven-day average is about 326 daily cases, up from 244 the week before.
Now that Tokyo has raised its alert, they are also looking at what measures should follow.
"We are in a phase where infection is spreading rapidly," said Tokyo Governor Koike Yuriko. "The number of new cases among elderly people, in particular, is increasing and we need to address risks for the elderly."
Tokyo has a separate alert level for "medical care availability." It's staying at the second highest level of the four-point scale, for now.
But at least one expert wants something stronger, suggesting more medical oversight at facilities for people who are infected but have no symptoms.