Tokyo Reports 664 New Cases, Surpassing 50,000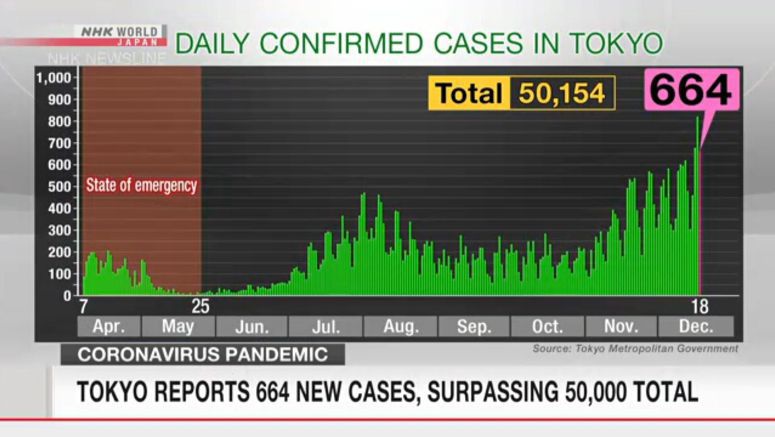 The cumulative total of coronavirus cases in Tokyo has now surpassed 50,000. With the New Year fast approaching, many are concerned pressure on the health care system will only grow.
Tokyo reported 664 new coronavirus cases on Friday --- after seeing record-breaking numbers the day before.
The Tokyo Governor is asking residents to work together to prevent the further spread of the virus during the upcoming holidays.
Koike Yuriko said, "Tokyo relies on three things to protect the lives of residents. We need to prevent deaths, serious cases, and the collapse of the medical system."
With serious cases going up, the Tokyo government has raised its alert for the healthcare system to the highest level.
One medical expert told NHK infections are spreading faster than expected... and could stretch the city's health care system beyond the brink.
He says hospitals that provide specialty treatment are now caring for people with COVID-19.
Inokuchi Masataka of Tokyo Medical Association said, "For example, if you find out you have cancer. If you find that you have heart problems, the hospitals you would go to are treating coronavirus patients. Now routine treatment for other life-threatening ailments are being compromised."
He stressed simple measures --- like washing your hands, staying home and wearing a mask --- could make a major difference.
The virus is also spreading outside Tokyo...the national tally for Friday stands at around 2,800. More than 194,000 people have tested positive nationwide.