Tokyo Reports Record 570 Daily Cases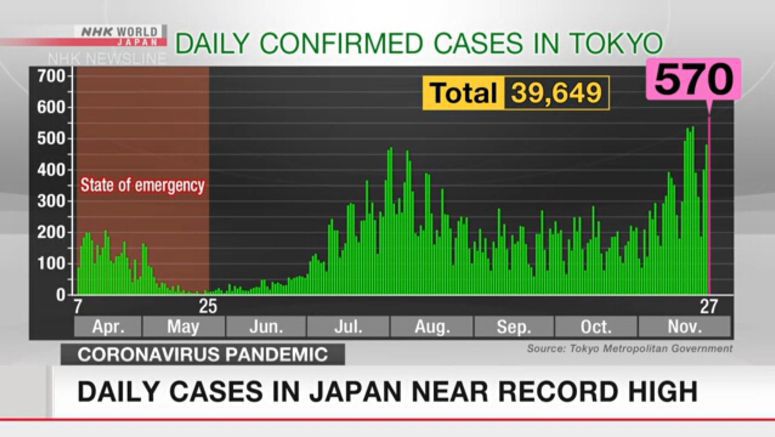 The daily number of new coronavirus cases in Japan has been hovering near record levels. More than 2,500 cases have been confirmed so far on Friday.
Tokyo set a new daily record with 570 cases, bringing the total number of infections in the capital to nearly 40,000.
One key metric experts are focusing on is the number of serious cases. It reached 61 on Friday...the highest since a nationwide state of emergency was lifted in May.
About 40 percent of Tokyo hospital beds allocated for serious COVID-19 cases are now occupied and experts warn the recent increase is straining the medical system.
Shoko Tomohisa of Tokyo Women's Medical University said, "Emergency care centers will be busiest in December and January. It will affect their capacity for handling ordinary emergency patients. In some cases, they could fall into life-threatening conditions."
Tokyo officials have asked bars and restaurants that serve alcohol to close early starting this weekend.
Authorities in Osaka, Sapporo and Nagoya are making the same request.
The prime minister is urging people to take basic precautions, such as wearing masks, washing hands and avoiding the "Three Cs" -- closed spaces, crowded places and close-contact settings.
The central government says the next three weeks are crucial. It wants to avoid reaching the highest alert level, which could lead to declaring a state of emergency again.
Across Japan there are currently 435 seriously ill patients...another record high. Over 143,000 people have been infected since the outbreak began, with the death toll exceeding 2,000.