Tokyo To Announce On Friday Facilities To Close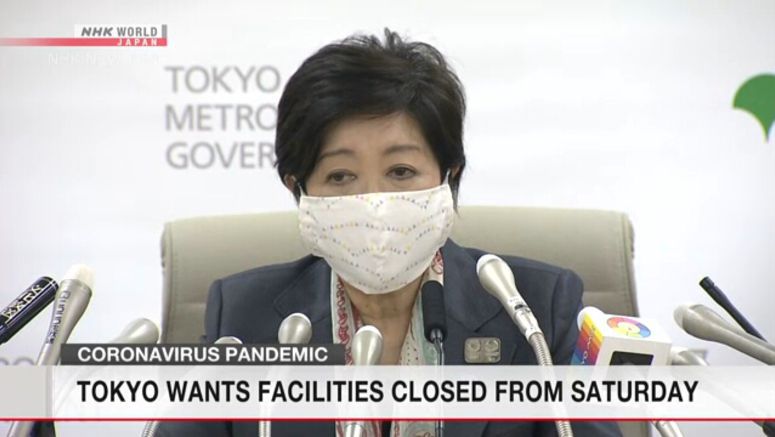 Tokyo Governor Koike Yuriko says the names of facilities to be closed down under a state of emergency declared by the prime minister will be announced on Friday.
Prime Minister Abe Shinzo declared a state of emergency on Tuesday for Tokyo and six other prefectures to curb the spread of the coronavirus.
At a meeting of the Tokyo metropolitan government's task force, Koike said that officials will ask citizens of Tokyo to stay home voluntarily, effective from midnight on Tuesday.
Koike said Tokyo authorities have yet to negotiate with the central government a list of facilities to be closed down while the state of emergency is in place.
She said Tokyo and the central government still have some differences to be ironed out and they will continue to negotiate.
The Tokyo government wants to ask department stores, shopping malls and home improvement stores to close except for their outlets selling food, medications and other supplies necessary for daily life. It also wants to include barber shops in the list of facilities to be closed.
Nishimura Yasutoshi, the minister in charge of coronavirus measures, said in the Diet on Tuesday that the central government intends to have barber shops, beauty salons and DIY stores continue to operate.
He said they are businesses indispensable in ensuring the stable running of people's daily lives.
At Tuesday's meeting, Koike said she wants to announce the list on Friday after having a draft finalized between the central and Tokyo governments.