Tokyo To Ease Covid Restriction On Restaurants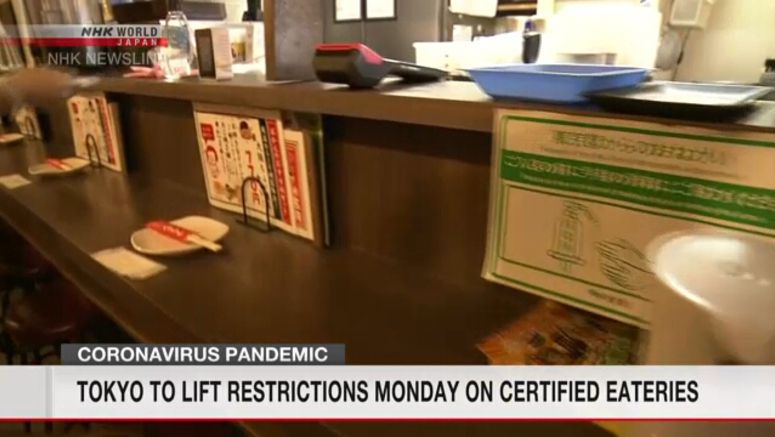 The Tokyo Metropolitan Government is planning to ease coronavirus-related restrictions on restaurants and bars from Monday as the daily new infections continue to decline.
Current restrictions require dining establishments certified as having anti-infection measures in place to stop serving alcohol by 8 p.m. and close by 9 p.m.
More than 102,000 establishments in Tokyo are certified. That means about 85 percent of restaurants and bars in the capital will be allowed to resume normal operations from Monday.
Those without certification are currently asked to refrain from serving alcohol. But they will be allowed to do so until 9 p.m.
One restaurant owner said, "I'm so happy that work is returning to normal and I can finally do my job as usual."
Forty-one new cases were confirmed in the capital on Wednesday, the fourth straight day to log under 50. Nationwide, more than 390 cases were reported.
Despite the declining trend, the government's expert panel is asking the public not to let down their guard. The experts say cases in the week through Tuesday rose slightly in 12 of Japan's 47 prefectures.