Tropical Depression Approaching Japan Expected To Develop Into Tropical Storm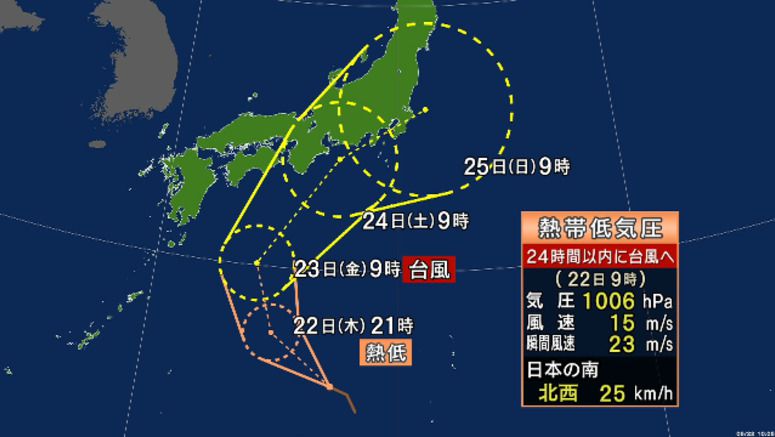 A tropical depression to the south of Japan is expected to develop into a tropical storm as it approaches the country during the three-day holiday weekend.
Japan's Meteorological Agency said on Thursday morning that the tropical depression is likely to develop into a tropical storm by Friday.
The storm is expected to continue to move northward and come close to the Pacific coast of western and eastern Japan from Saturday through Sunday.
There is no storm zone, and it is expected to be downgraded to an extra-tropical low by Sunday morning, but an influx of moist air will make atmospheric conditions unstable.
Many parts of western and eastern Japan could have thunderstorms through Sunday.
The Tokai region in central Japan could have downpours of more than 50 millimeters per hour.
The Tokai and Kinki regions could have total rainfall of 150 millimeters in the 24-hour period through Friday noon, and Kanto-Koshin could have 120 millimeters.
Another 100 to 200 millimeters of rain are expected in Tokai and Kinki over the next 24 hours through Saturday noon. Kanto-Koshin will have an additional 100 to 150 millimeters.
Winds will pick up from Friday, mainly off the Pacific coast of western and eastern Japan, and cause high waves.
Torrential rain is likely to have been loosened the ground in areas that were hit by Typhoon Nanmadol.
Agency officials are urging people to be on the alert for landslides, flooding in low-lying areas and swollen rivers.
They are also calling on holidaymakers to remain updated on the weather when enjoying the outdoors.