Tropical Storm Forms, Approaches Japan Along Pacific Coast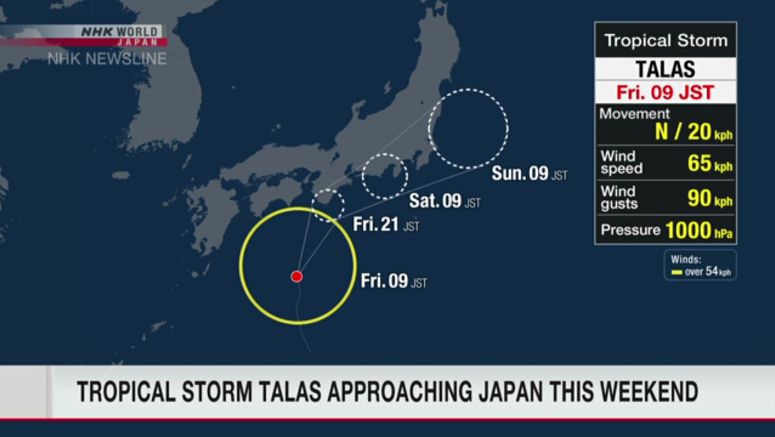 Japanese weather officials say a tropical storm has formed over the sea to the south of Japan.
The Meteorological Agency says Tropical Storm Talas was located about 300 kilometers off Kochi Prefecture in western Japan at 9 a.m. local time on Friday.
It was packing winds of up to about 65 kilometers per hour near its center, with gusts peaking at 90 kilometers per hour.
Talas is moving north at a speed of 20 kilometers per hour. It is expected to come close to western and eastern Japan along the Pacific coast from Friday night through Saturday.
It is likely to be downgraded to an extra-tropical low by Sunday morning, however.
The storm is expected to bring heavy rain with lightning primarily to the Tokai, Kinki and Kanto-Koshin regions through Sunday. Localized downpours of more than 50 millimeters per hour are possible.
The amount of rainfall in the 24-hour period through Saturday morning is forecast to be up to 200 millimeters in Kinki and Tokai and up to 120 millimeters in Kanto-Koshin.
Winds will intensify mainly off the Pacific coast of western and eastern Japan. High waves are likely in some areas.
Agency officials are urging people in the storm's path to be on the alert for landslides, swollen rivers and flooding in low-lying areas, as well as lightning strikes, gusty winds and tornadoes.