Tropical Storm Meari Expected To Make Landfall In Japan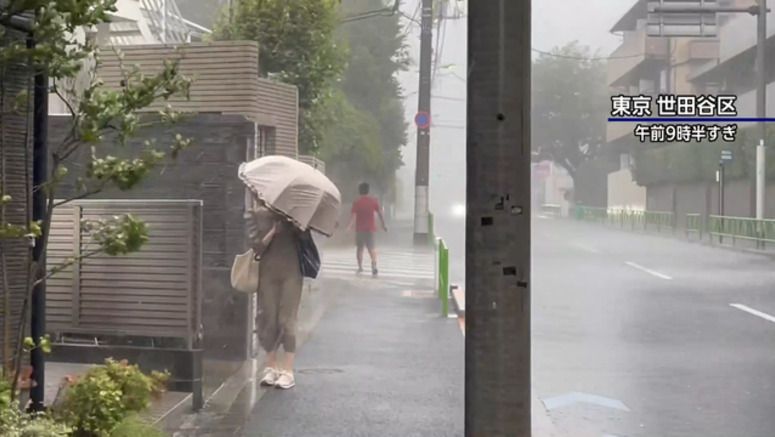 Japanese weather officials say Tropical Storm Meari will likely make landfall on Saturday in Shizuoka Prefecture, central Japan, or the neighboring region of Kanto.
The officials say rain and wind are intensifying, particularly on the Pacific side of eastern Japan. Heavy rain is forecast for the area through late Saturday.
The Meteorological Agency says as of 9 a.m. on Saturday, the tropical storm was 130 kilometers southwest of Omaezaki City, Shizuoka Prefecture, and moving north-northeast at about 20 kilometers per hour.
The central atmospheric pressure was 1,000 hectopascals with maximum winds of about 72 kilometers per hour near its center.
The approaching storm brought 233.5 millimeters of rain to Fujinomiya City, Shizuoka Prefecture and 208.5 millimeters to Shizuoka City in the 24-hour period through 11:30 a.m. Saturday.
In the 24-hour period through Sunday noon, up to 300 millimeters of rainfall is expected in Shizuoka Prefecture, 200 millimeters in the Kanto-Koshin region and 150 millimeters in the Izu island chain.
Bands of heavy rain clouds may develop in the Tokai region including Shizuoka, bringing localized downpours.
Weather officials warn of landslides, flooding, swollen rivers, and high waves. They also urge caution against lightning strikes, gusty winds and tornadoes.
The storm is disrupting air transport. As of 12:30 p.m. Saturday, Skymark Airlines had cancelled 30 flights, Japan Airlines 23 flights, and All Nippon Airways 10 flights.