Typhoon Haishen Weakens But Still Powerful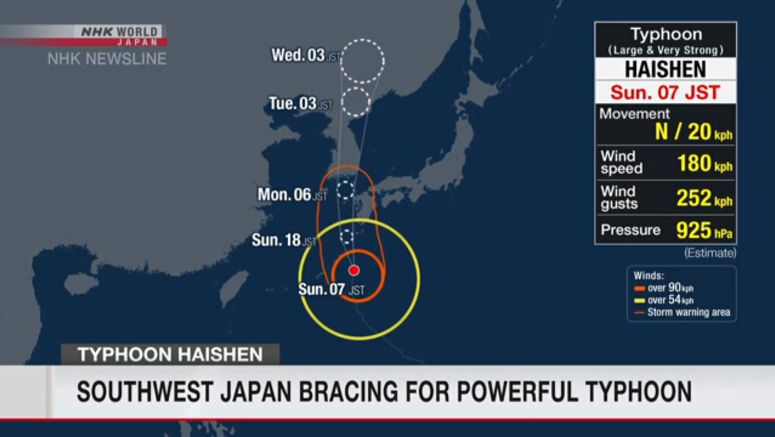 Japan's Meteorological Agency says Typhoon Haishen, now threatening Japan's southwest, has weakened slightly but could still be the most powerful storm in decades. Weather officials are warning of record-breaking winds, high waves, storm surges and unprecedented heavy rain in the Kyushu region.
The agency says it's unlikely to issue an emergency warning for Kagoshima Prefecture. It typically issues typhoon-related emergency warnings 12 hours before storm centers reach target areas.
Weather officials say Haishen was 130 kilometers southeast of the island Amami Oshima in the Pacific at 9 a.m. on Sunday. They say it was moving north at 25 kilometers per hour.
Haishen has a central atmospheric pressure of 925 hectopascals. The typhoon is packing maximum winds of 180 kilometers per hour near its center -- and gusts of up to 252 kilometers per hour.
Officials are calling on people to stay on the highest alert and evacuate early following advisories and orders issued by local governments. They also say it's better to act quickly, before violent winds prevent evacuation.
A land ministry official says there is a growing risk that big rivers will burst their banks in Kagoshima, Miyazaki, and Kumamoto prefectures on the island of Kyushu.
Many hotels in Miyazaki Prefecture have been fully booked by people evacuating their homes. All 101 rooms at a hilltop hotel have been reserved for Sunday. The manager says full bookings are unusual for this time of the year.
The typhoon is affecting major transportation networks.
More than 500 flights have been canceled on Sunday. Most were to and from southern Kyushu and Okinawa.
The operator of the Kyushu Shinkansen says services will be partially suspended on Sunday and cancelled all of Monday.