Typhoon Maysak Hitting Okinawa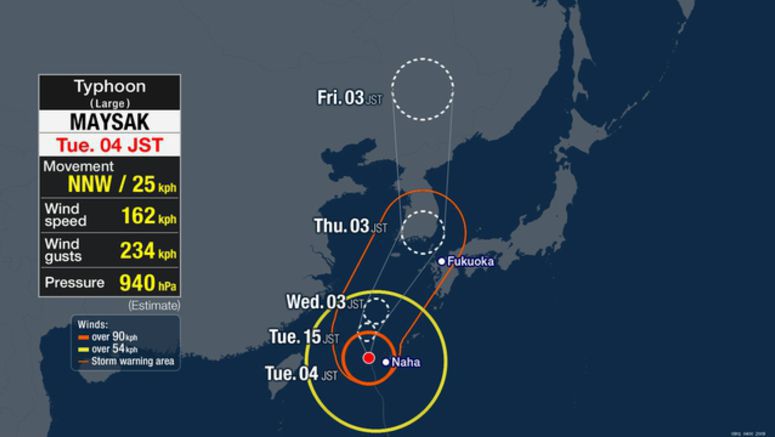 Powerful Typhoon Maysak is moving through the islands of Okinawa, southern Japan. It is expected to pick up strength and head north over waters west of Kyushu region through Thursday.
Weather officials say that as of 6 a.m. on Tuesday, the large and very strong typhoon was moving north-north-west over waters 70 kilometers northwest of Okinawa's Kume island at a speed of 25 kilometers per hour.
It has an atmospheric pressure of 940 hectopascals at its center. It is packing winds of 162 kilometers per hour with a maximum momentary velocity of 234 kilometers per hour.
Violent winds of more than 90 kilometers per hour are blowing within 185 kilometers of its center.
At about 3:30 a.m. maximum gusts of 196 kilometers per hour were recorded at an airport in Kume island.
Winds strong enough to cause houses to collapse are expected in Okinawa throughout Tuesday evening.
Wind forecast through Wednesday are 162 kilometers per hour for the Okinawa region, and 82 to 126 kilometers per hour for the Kyushu region.
Maximum gusts could reach 234 kilometers per hour in Okinawa and 126 to 180 kilometers per hour in Kyushu.
Rough seas are also expected. Waves are likely to reach 13 meters high around Okinawa, and 10 to 12 meters around Kyushu.
Throughout the day Okinawa could have hourly rainfall of 80 millimeters or more, accompanied by thunder.
By Wednesday morning, up to 200 millimeters of rain is expected in Okinawa, and 100 to 150 millimeters in Kyushu.
The approaching typhoon could cause a record high tide in Okinawa and may cause flooding in coastal areas and near the mouths of rivers.
Weather officials are calling on people to be alert for violent winds, high waves, landslides, flooding in low-lying areas and swollen rivers.
People are advised to stay updated on the latest information.