Us Military 'remains Ready' In Asia Despite Virus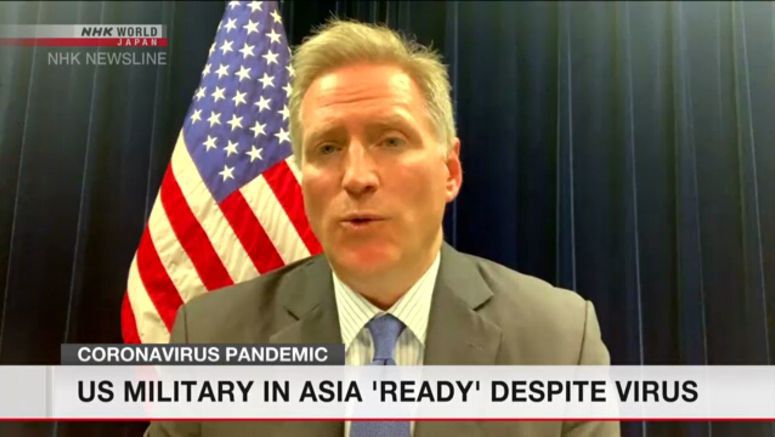 A top official at the US Embassy in Tokyo says the US military "remains ready and capable to deal with any kind of aggressive acts," even though coronavirus cases have been found on a US aircraft carrier and bases in Japan.
Charge d'Affaires ad interim Joseph Young gave a video interview to NHK on Friday. He said the US forces have taken "proactive measures to minimize the risk of infection and spread," and the US is ready to respond to any actor that might want to take advantage while the East Asian region is focused on the coronavirus.
Young believes the situation in Asia is becoming more worrisome. He said he thinks Japan and the US share the understanding that they need to do more to strengthen their security partnership to respond to the evolving risks.
Young said he doesn't think there will be strategic changes in Japan-US relations after the pandemic ends, and relations with important partners such as Japan will be intensified.
Young also said, "There could be a moment, an opportunity for cooperation with China" regarding the coronavirus crisis. But he added, "That's really going to depend on the Chinese government being open, transparent, honest and willing to share information."
Young said the spread of the coronavirus is a global crisis that requires global solutions. He said the Japanese government "sees the seriousness of the situation" and has taken some important measures, including the declaration of a state of emergency.
The US Embassy in Tokyo noted on its website last month that the Japanese government's decision not to test broadly makes it difficult to accurately assess the COVID-19 prevalence rate.
Young stopped short of making a direct comment on Japan's coronavirus testing, only saying that medical experts continue to have wide-ranging discussions about ways to address the problem. He said Japan and the US are going to share the lessons learned in both countries.
A special agreement on the cost of stationing US forces in Japan, which is concluded every five years, will expire in March next year. Young said he is sure that once Japan and the US get to the negotiating table, they will understand the need to strengthen their partnership.