Venues React Differently To Easing Of Capacity Cap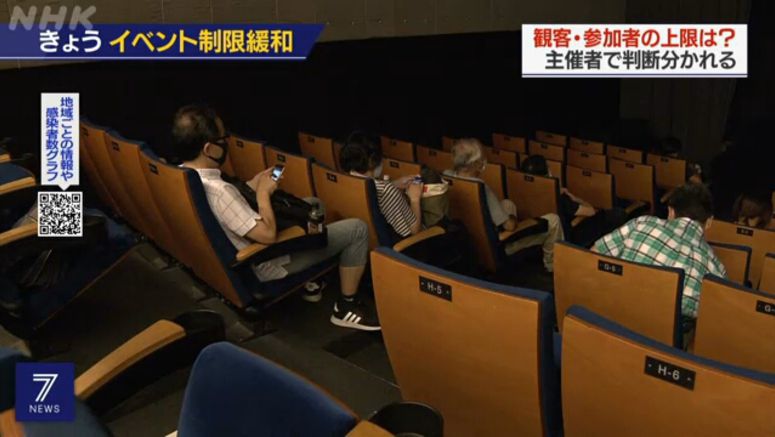 A number of cinemas in Japan have begun seating viewers at full capacity after the government relaxed the limit imposed on big venues due to the coronavirus starting on Saturday.
Cinemas had been limiting the audience to up to half capacity. Eurospace cinema in Tokyo's Shibuya district sold tickets for all 145 seats. Audience members sat next to each other as they waited for the movie to begin.
Eurospace says it will continue to take preventive measures against the coronavirus, including having viewers wear face masks, sterilize their hands, and check their body temperatures. It plans to reduce the number of viewers for special events.
Some mini-theaters are also relaxing their cap, but others have chosen to maintain the restriction. Some have restricted people from eating in the theaters.
Eurospace manager Hojo Masato said he's relieved that business can finally return to normal. But he said he's uncertain whether moviegoers will come back. He said the staff will continue to ask viewers for their cooperation with anti-infection measures.
Venues of events such as classical music concerts and theatrical performances that do not involve cheering no longer need to limit the audience to half of capacity. The maximum of 5,000 will stay in place.
But the response of venue operators vary. The Kabukiza theater in Tokyo has kept its audience at half capacity for its September kabuki performances.
The Shiki Theatre Company will keep the front row seats closest to the stage empty from November and has not yet decided how many tickets it will sell.
The Association of Japanese Symphony Orchestras says each orchestra is making its own decision. The Tokyo Symphony Orchestra has begun selling tickets for all of the seats for their September 26 performance.