Views Polarized On Reconstruction From Disaster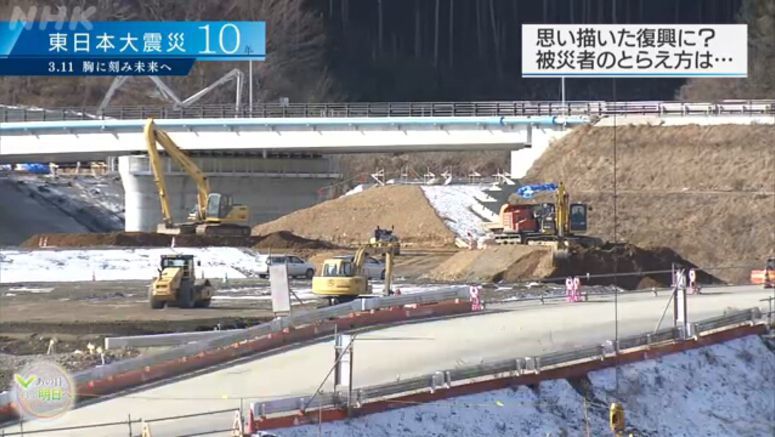 An NHK survey of people affected by the massive 2011 earthquake and tsunami in northeastern Japan has revealed that they have mixed views about efforts to rebuild their communities.
The survey was conducted in December and January ahead of the 10th anniversary of the disaster. It targeted more than 4,000 people who were living in the three most severely affected prefectures of Iwate, Miyagi and Fukushima at the time of the disaster. The poll drew responses from 1,805 people.
When asked about how they felt about the current status of reconstruction, 12.0 percent of respondents said the work has been completed, while 33.7 percent said there has been more progress than expected.
In contrast, 43.3 percent said there has been less progress than expected, while 7.4 percent said they haven't noticed any progress at all.
People with a negative view made up 50.7 percent of the total, outnumbering those with a positive view by 5 percentage points.
However, the ratio of people with a positive view was up about 6 percentage points from a year earlier.
By prefecture, those who said reconstruction has been completed or that more progress has been made than anticipated accounted for 28.6 percent in Fukushima Prefecture.
The figure was substantially lower than 58.9 percent in Miyagi and 44.9 percent in Iwate.
The gap apparently reflects the lingering effects of the nuclear accident at the Fukushima Daiichi power plant. Evacuation orders are still in place in areas surrounding the plant.