Japan's Kunieda Aims For Another Tennis Gold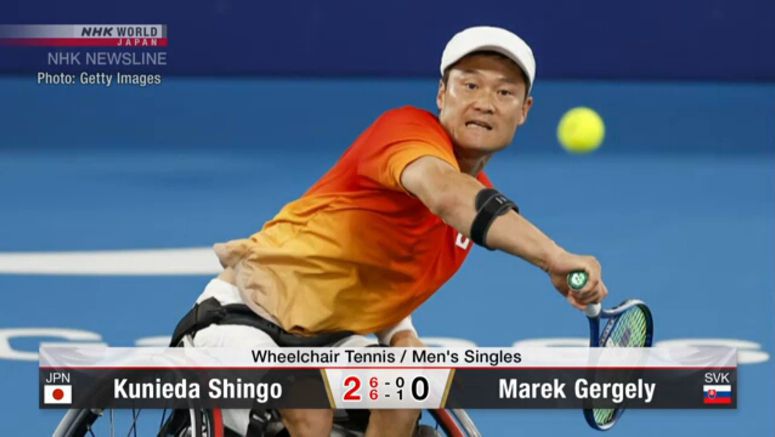 On day 4 of the Paralympic Games in Tokyo, Japan's wheelchair tennis star Kunieda Shingo won his first match in the men's singles.
He's aiming for his third gold medal in the division, which would bring his total to four Paralympic golds.
He defeated Slovakian Marek Gergely in straight sets in the second round on Saturday.
A spinal tumor put 37-year-old Kunieda in a wheelchair at the age of nine. He started playing wheelchair tennis two years later.
He has claimed 24 Gland Slam titles in his career. But he missed out on a medal in the Rio Games, where he competed after surgery on his right elbow.
In the women's singles, Japan's Kamiji Yui won in straight sets over Argentina's Maria Florencia Moreno in the first round.
The former world number one won the bronze in Rio. She was one of the final torchbearers of these Paralympics.
The men's sitting volleyball featured the tallest athlete ever to compete at a Paralympics.
Iran's Morteza Mehrzadselakjani is 2 meters and 46 centimeters tall. He normally uses a wheelchair or crutches after a bicycle accident when he was a teenager.
He scored a team-high of 18 points as his country beat Germany in straight sets in the preliminary round. Iran is aiming for its seventh gold medal in the event.