'oh, No!' Palm Tree Breaks And Crashes Several Suvs At Arizona Acura Dealership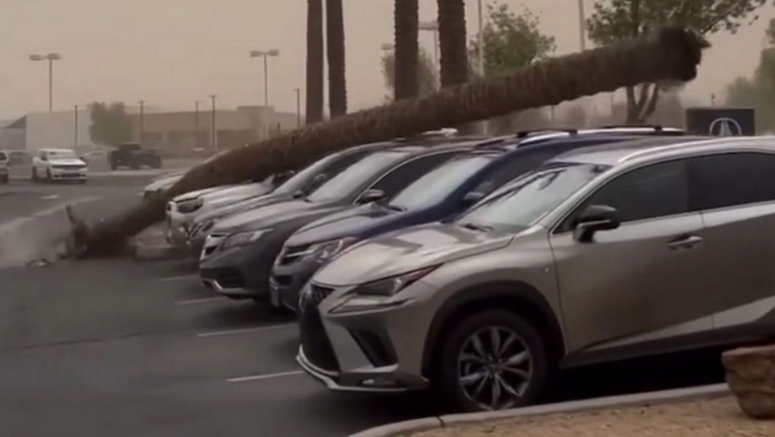 Videos have emerged on social media showing a large palm tree being knocked over by monsoon winds in Tempe, Arizona. The tree, one of several lining the parking lot of an Acura dealership, falls on several Lexus and Toyota SUVs.
Footage of the aftermath shows the tree resting atop a Lexus RX450h, an Acura MDX, and across the hood of a Toyota 4Runner. Although the extent of the damage to the vehicles is not abundantly clear, the roofs seem to hold up remarkably well given the weight of the tree falling on them, a testament to the crash structures of these vehicles.
"It's going, it's going, it's going. Oh no! No! Oh, shit. That's the worst scenario!" the person behind the camera can be heard shouting as the tree starts to fall. His response would suggest that the tree looked like it was bowing under the winds.
Read Also: Watch As A 200-Foot Redwood Tree Crashes Down Onto A Motorist
The accident happened on July 31, reports Tire Meets Road, and was posted to Instagram as well as to Facebook by news reporter, Tess Rafols. The tree fell during the state's monsoon season.
AZ Family news reported that monsoon rains hit the Phoenix area last week, with winds of up to 50 mph (80 km/h). That storm led to hail and flash flooding, as well as the high winds that appear to be what took the tree down.
Fortunately, no one seems to have been injured as a result of this particular accident and, as someone in the comments of the Facebook video pointed out, that means that the "worst case scenario" was, in fact, avoided. I still suspect that the management at Acura of Tempe will be looking into new ways to decorate the perimeter of the lot, though.
A post shared by Concentratedmind (@concentratedmind_)