Japan's Aging Infrastructure In Dire Need Of Repair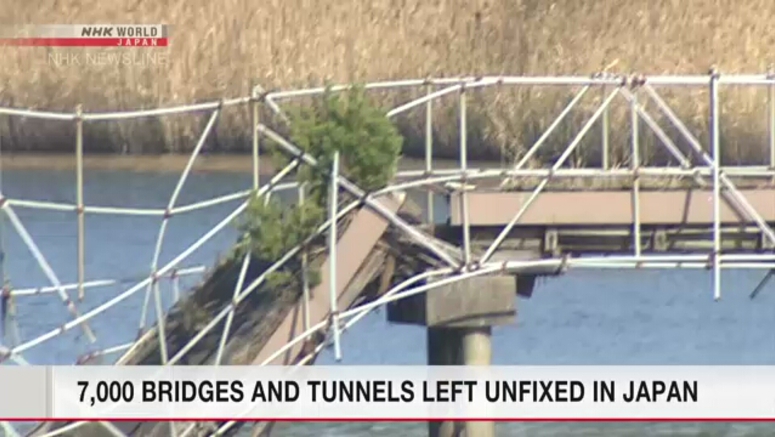 Japan faces a rising tide of aging infrastructure that cannot be repaired due to tight budgets and worker shortages.
Local authorities are required to inspect bridges and tunnels every five years, following a fatal tunnel collapse a decade ago. The accident in the Chuo Expressway's Sasago Tunnel in Yamanashi Prefecture killed nine people.
NHK analyzed the infrastructure ministry's data in March on safety inspections of bridges and tunnels at about 740,000 locations nationwide.
The results show that 33,390 bridges and tunnels in the country have been left untouched even though they were marked for "early" or "urgent repairs."
The central government says these structures need attention within five years, but 7,041 of them have been neglected for longer than that. They include 6,967 bridges and 74 tunnels.
Some bridges have been closed to traffic, while others have partially collapsed.
The infrastructure ministry says 34 percent of bridges nationwide were built more than 50 years ago amid Japan's period of high economic growth. It estimates a surge to 59 percent in a decade.
Ministry officials say small municipalities especially are making slow progress in infrastructure repairs due to tight budgets and worker shortages.
They say they will continue with efforts to prevent fatal accidents, like the one in Sasago Tunnel, from happening again.