Ohtani Featured On Japanese 'hagoita' Paddle In Traditional Year - End Display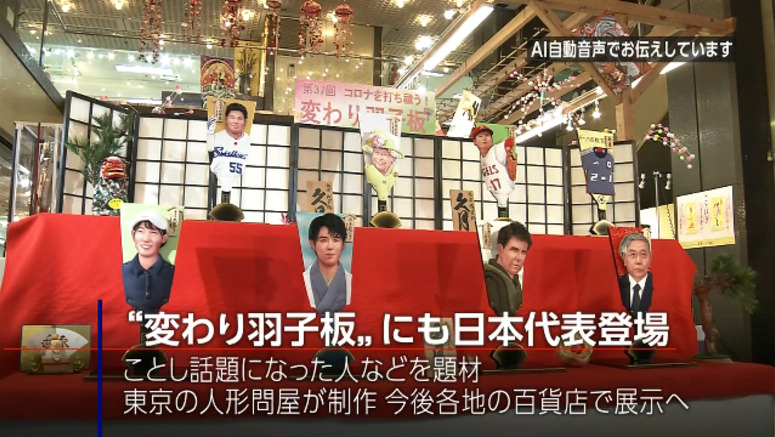 Japanese "hagoita" decorative wooden paddles bearing images of seven prominent people this year have been put on display in Tokyo.
A doll wholesaler has been making the battledore paddles every year as a year-end tradition.
Major League Baseball star Ohtani Shohei is one of the seven personalities featured on the paddles. Another "hagoita" depicts the late British Queen Elizabeth II, who passed away this year after 70 years on the throne.
Japanese baseball slugger Murakami Munetaka, who racked up 56 home runs this season, a Japanese record, is seen holding up three fingers. He is the youngest professional baseball player to win the Triple Crown.
An eighth paddle was hastily created carrying an image of Japan's soccer squad, which made it to the knockout round at the World Cup in Qatar.
The president of the doll wholesaler Kyugetsu, Yokoyama Hisatoshi, says the team's loss on Monday was disappointing, but that he wanted to cheer the team on. He says he hopes the "hagoita" will bat away misfortune and usher in an auspicious year.
The paddles will be on display at Kyugetsu's flagship store in central Tokyo until Thursday. The display will then move on to various department stores.