Can A Stock Porsche 991 Turbo S Beat A 700 Hp Nissan Gt - R?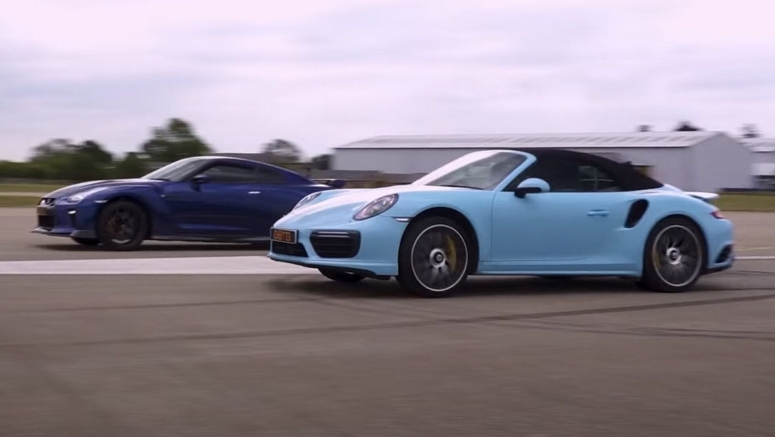 While the 992-generation Porsche 911 Turbo S was recently introduced, the 991 model remains one of the quickest-accelerating production vehicles ever. However, can it compete with a Nissan GT-R modified to deliver roughly 700 hp?
Both the 911 Turbo S Cabriolet and GT-R featured in this video are powered by twin-turbocharged six-cylinder engines that also happen to have the same 3.8-liters of displacement. However, whereas the Porsche uses a flat-six, the Nissan has a V6.
In 991.2 guise, the engine of the 911 Turbo S is rated at 572 hp and 516 lb-ft (700 Nm), but that jumps to 553 lb-ft (750 Nm) with Overboost. Ordinarily, that would be more than enough to beat out the GT-R which, depending on the model year, produces anywhere between 480 hp and 430 lb-ft (583 Nm) up to 565 hp and 467 lb-ft (633 Nm).
Watch Also: 2021 Porsche 911 Turbo S Goes Around The Track Faster Than The Lambo Huracan Evo And Ferrari 488 GTB
However, the GT-R featured in this video is far from stock as, according to the video, it has been tuned to deliver approximately 700 hp.
In the first of three races, the duo sprint off the line at very similar rates, but as the speeds increase, the added power of the tuned GT-R helps it edge ahead. The driver of the 911 soon reveals that she forget to enable the Porsche Sport Response Button that allows the turbochargers to go into overboost to help acceleration.
In the second race and with that little button pushed, the 911 fired off the line with unbelievable ferocity and despite its power deficit, was able to hold on to its lead through to the very end. What happened in the third and final race? You'll have to find out for yourself.