Castrol Tom's Racing Toyota Supra Found In Storage And Is Being Restored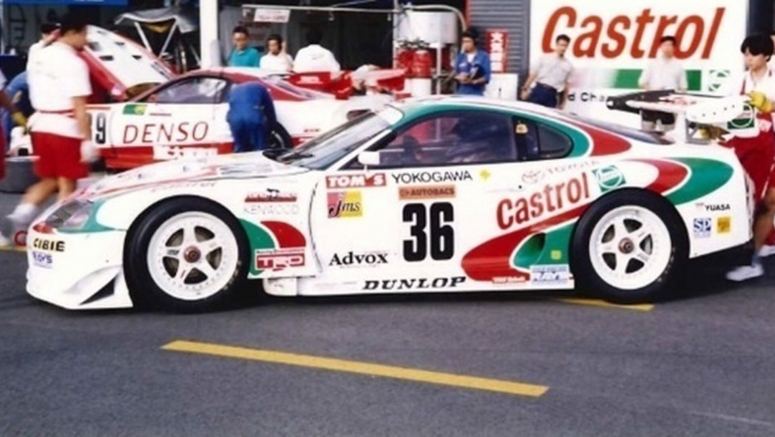 The iconic Castrol TOM's Racing Toyota Supra has been found and the racing team has embarked on a project to restore it to its former glory.
This Supra is perhaps the most recognizable vehicle to ever compete in Japan's Super GT series and was responsible for taking the rivalry between Nissan and Toyota to new heights.
A Redditor first stumbled across an article in Japan asking for donations and detailing the car's history and the plans to restore it. Following its successful life as a racing car, the vehicle fell off the map until it was found in a storage unit in the Chugoku-region of Japan. It remains unclear just how the car ended up in the storage facility, but it has likely been there for many years. TOM's Racing is leading the restoration and asking for donations to get it done, creating a crowdfunding campaign asking for 50,000,000 yen ($466,000). At the time of writing, 990,000 yen ($9,233) had been raised.
Read Also: TOM's Modified 2020 Toyota Supra Hulks Out In Land Of The Rising Sun
The team's first funding goal is 10,000,000 yen ($93,000) and will involve a cosmetic restoration of the exterior and interior. The second funding goal sits at 30,000,000 ($279,000) and will make the car driveable. The ultimate goal of 50,000,000 yen is to get the car back to a race track.
The Castrol TOM's Racing Supra had its debut during the 1995 All-Japan Grand Touring Car Championship. Competing squarely against the Nissan Skyline of the day, Toyota decided against using the 2JZ engine of the road-going model and instead fitted the race car with the same 2.0-liter, turbocharged 3S-GT powertrain as the Toyota Celica WRC car, which was good for 493 hp and over 442 lb-ft (600 Nm) of torque. The racer scored its maiden win on June 25th, 1995 at the Sendai Hi-Land Raceway, and went on to secure numerous other victories in subsequent seasons of the championship.
Photo
Gallery