Get The Ins And Outs Of The 2022 Br - Z, Which Subaru Claims Is The World's Lightest Rwd Sports Car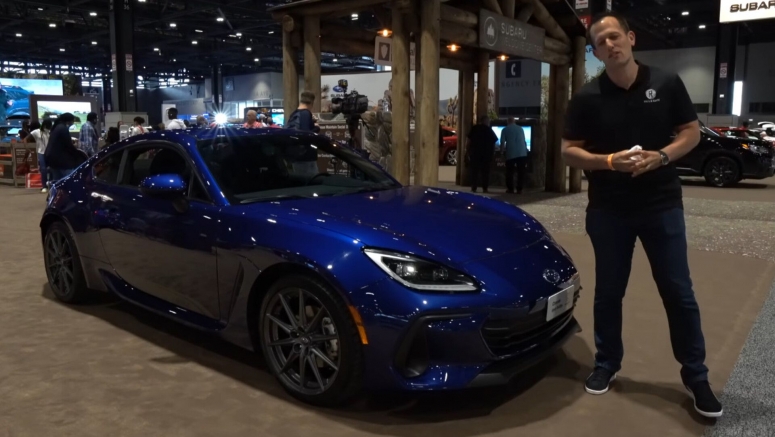 With the new BR-Z unveiled, and US pricing confirmed, Raiti's Rides made their way to the 2021 Chicago Auto Show to meet the new 2022 Subaru BRZ and check it out.
First things first. While this is a completely new car from the previous GT86/BR-Z collaboration, the basic design ethos has stayed the same. Subaru once again has joined forces with Toyota to manufacture the 2022 BRZ/GR86, which they claim to be the lightest RWD sports car available in the world. Despite this, it continues to focus on delivering performance while still being practical enough to be used on a daily basis.
The exterior of the BRZ features headlights that have blacked-out innards with LED daytime running lights. Right beneath them are functional side air vents in matte black. You also get a matte black splitter, a massive grill, and the Subaru logo to complete the front.
See: Starting From $27,995, The 2022 Subaru BRZ Combines RWD With 228 HP
The showcase car is fitted with 18-inch gunmetal-grey multi-spoke wheels wrapped in Michelin Pilot Sport 4S tires, although 17s on less grippy rubber are available on the base model. Options to spec Brembo brakes and Sachs dampers are available too.
Without keeping the old and new car side by side, it'd be hard to tell the side profiles apart. The car featured on the Chicago Motor Show stand includes a grey BRZ decal. The rear end is complemented with LED taillights, a duck-tail spoiler, a glossy black line between the lights, two tailpipes, and a diffuser.
The interior is improved on the outgoing model and features a more minimalistic approach, giving cues that it is a performance-focused car. Parts of the insides are enveloped in Alcantara and microfiber suede with red stitching. The dash feature a new 8-inch touch screen infotainment system, toggle switches, and knobs. The (heated) seats have manual adjustments, and the leather steering wheel sports matte black buttons. The driver is greeted with a digital dash that resembles the crankshaft and pistons of the flat-four engine.
Finally, under the hood of the 2022 Subaru BRZ is a 2.4-liter naturally aspirated flat-four that pushes 2228 hp (170 kW / 231 PS) and 184 lb-ft (249 Nm) of torque that's available with two six-speed transmissions, a manual and an automatic. And, with a weight of 2850lbs, the BR-Z could just be one of the last lightweight RWD cars we get for some time to come.