Here's What The 2023 Honda Civic Type R Looks Like If You Render Away The Camouflage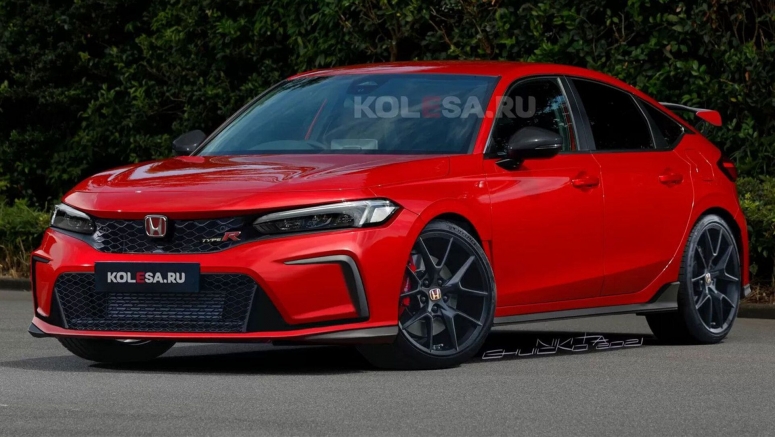 These are independent illustrations by Kolesa based on the latest teasers that are neither related to nor endorsed by Honda.
Honda recently previewed the next-generation Civic Type R and hot on the heels of photos of thinly-disguised prototypes being released, a pair of renderings have hit the net that show how the new hot hatch might look.
Photos released by Honda of the new Civic Type R reveal that it will sport a much more aggressive design than lesser Civic variants but as these renderings show, the design could be slightly tamer than the FK8 model that's currently on sale.
The latest-generation Civic Hatch is an excellent starting point for the design of the new Type R as it is more grown-up and refined than the 10th-generation model. This means the new Type R will lack the odd lobster-claw taillights of the FK8 and sport a pair of smaller and more traditional taillights connected with an LED light bar.
Read More: We Snapped The 2022 Honda Civic Type R Prototype A Day After It Was Announced
At the front, prototypes being tested by Honda lack the large air scoop found in the hood of the current model. A more subtle front splitter is also featured in these renderings, as is an enlarged front grille and the removal of the FK8's abysmal fake front air intakes.
Some other differences are visible at the rear in these renderings from Kolesa. For example, the wing of the new Type R is slightly smaller and is affixed higher up the rear window. The FK8's triple tailpipes have been retained but rather than featuring two larger exhausts on the sides and a small one at the middle, the new model will have a reverse configuration with a larger central pipe and smaller exhausts either side of it.
Powertrain details for the new Civic Type R haven't been announced yet, but it is expected to have an upgraded version of the current car's turbocharged 2.0-liter four-cylinder.