Honda Type R At 30: Driving The Icons And The Oddities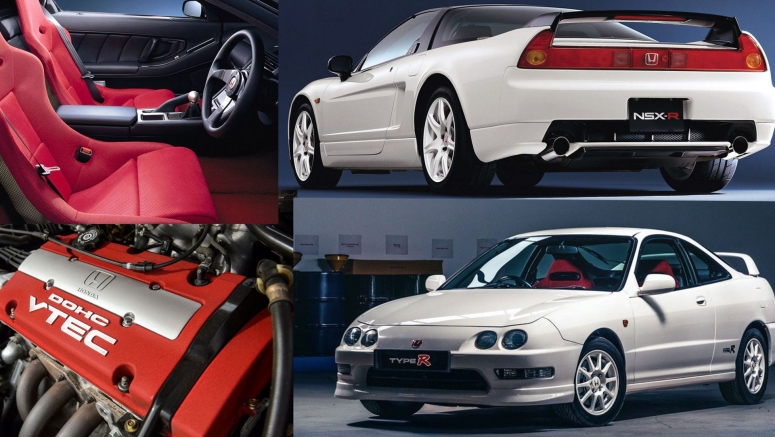 Honda's Type-R brand turns 30 this year, so maybe it's no coincidence that the new 2023 Civic Type R has started dressing a little more like a grown up. The FL5 has ditched the old FK8's brash body kit for a cleaner look, but the good news is that under the skin it's business as usual, meaning a non-hybrid turbocharged engine, front-wheel drive and a manual transmission.
We're still waiting for our chance to get behind the wheel and tell you what the 315 hp (319 PS) FL5 is like to drive, but what we can tell you what it's got to live up to, because over the last two-decades we've driven just about every other Type-R, from the original 1992 NSX-R to the strangely refined Accord Type-R of the late 1990s, and the recently departed FK8 Civic.
1992 NSX-R – The One That Started The Legend
› Model: Honda NSX-R
› Produced: 1992-1998 (NA1), 2002-2003 (NA2)
› Powertrain: 3.0L V6 / 5sp Manual / RWD (NA1), 3.2L V6 / 6sp Manual (NA2)
› Output: 276 HP (280 PS/206 kW) & 217 lb-ft (294 Nm)
› Performance: 5.0 seconds 0-62 mph, 168 mph (270 km/h) NA1
› Weight: 2,712 lbs (1,230kg) NA1, 2,809 lbs (1,274 kg) NA2
Related: 2023 Honda Civic Type R To Start At $43,990, Over $5k More Than The Last One
Let's kick our retrospective off with the car that kickstarted the entire Type-R legend, the 1992-95 NSX-R. Most of the world knew the original NSX as as the car that forced Ferrari to up its game and inspired Gordon Murray's development of the McLaren F1, a machine that looked and sounded like a supercar, but was as reliable, well built, and as easy to drive as a Civic. What few people outside of Japan knew in the early 1990s though, is that Honda also sold an NSX that answered every criticism from sadomasochistic owners of Italian exotics that the base NSX was a little too refined (which is 1990-Ferrari-owner-speak for useable and reliable).
That car was the NSX-R, a car so diet-crazed that it didn't even get the "type" bit in its name. Junking the air conditioning, HiFi, and much of the soundproofing, and adding forged Enkei wheels and carbon bucket seats (but strangely still with electric adjustment) sliced 265 lb (120 kg) from the stock NSX package to bring the curb weight down to 2,712 lb (1,230 kg). Those seats are on the snug side for anyone who hasn't undertaken their own Type-R-style weight loss program, and initially feel too high, but that's only because the NSX's dashboard and scuttle are so low, giving a great view of the road. Other changes from the stock NSX are the cold and cool titanium shift knob, yellow instrument needles and a gorgeous airbag-free Momo steering wheel.
There's no power steering to help you shuffle that wheel around at parking speeds, and it feels heavy to wimpy modern arms. But once you're rolling the weighting is perfect, the fairly slow (by modern standards) rack gearing seems entirely natural, and the feel is sublime. You'd know less about the road surface if you opened the door, leaned out and dragged your face along the asphalt. And that slightly soft, disconcerting rear roll that early stock NSXs suffered from on track? Banished, though at the expense off a much grittier ride on real roads.
But it's still a toss-up whether the steering and chassis or the engine is the standout feature of the NSX-R. Honda didn't claim any huge power increase for the R's 3.0-liter V6 although it was apparently blueprinted, and was still officially rated at no more than the 276 hp (280 PS) Honda quoted for the stock NSX, even though torque was up 4 lb-ft (5 Nm). But the diet, the induction noise and shorter gearing make it feel at least 40 hp (41 PS) stouter than that.
So why isn't it my favorite Type-R? Because a decade after creating the NA1 NSX-R, Honda revisited the concept to build another R from the facelifted, but soon-to-die, NA2 NSX. Opinion seems to be divided on the NA2's fixed headlamps, but the second-gen R's wheels fill the arches so much better, and its vented hood and rear spoiler make it stand out more clearly from the stock car.
It also got an upgrade from five to six gears compared with the original R, plus benefited from the bigger 3.2 block that all NSXs had moved to in 1997. Again, Honda rated the R's balanced and blueprinted engine at the same output as the stock NSX, which made it look and, if I'm honest, feel fairly slow beside rivals like the 376 hp (380 PS) Porsche 996.2 GT3 in a straight line. But the feel of the unassisted steering, the handling balance, the throttle response, and yes, the soundtrack, left even the 911 in the shade, though the payoff was another bone-shaking ride on anything other than marble-smooth race tracks.
Honda never made a Type-R version of the over-complicated, overweight 2016-2021 NSX, and when you drive the original, a car so light, so pure, and so single-minded, you can see why. The comparisons wouldn't have ended well.
Honda/Acura Integra Type R (DC2) – The Blue Collar NSX-R
› Model: Honda/Acura Integra Type-R (DC2)
› Produced: 1995-2001
› Powertrain: 1.8L 4cyl / 5sp Manual / FWD
› Output: 197 HP (200 PS/147 kW) & 133 lb-ft (181 Nm) JDM spec
› Performance: 6.5 seconds 0-62 mph, 145 mph (233 km/h)
› Weight: 2,513 lbs (1,140 kg)
The most exciting front-wheel drive car ever built? More than 20 years after it went off sale, you'll still hear plenty of people claiming the original Integra Type-R is exactly that.
The Integra, or "Teg" as fans sometimes call them, arrived in 1985, but it was another decade and two generations before it got the R treatment, giving Europe and North America their first taste of Type-R. JDM cars came with rectangular lights and a 197 hp (200 PS) version of the B18C VTEC 1.8, while U.S. cars got round lights and came up just two ponies short; both got a strengthened body shell, limited-slip diff, hi-rise rear spoiler and revved to almost 9k. There was even a four-door sedan version for Japanese dads that refused to grow up.
Drive a DC2 R today on traffic-clogged roads and we wouldn't argue if you got out complaining it felt cheap, tinny, and slow. Strip away the R cosmetics and the soap-bar styling with its tiny 16-in wheels looks pretty dated, too. But in the right situations, on the right road, and when you're in the right frame of mind, that original Integra Type-R is right up there with any RS-branded Porsche when it comes to immersing you in the experience of picking apart a route from A to B.
Sadly, its ability and cult following means values are heading towards Porsche RS territory, too, but if you can scrape together the money, you probably should, because we'll never see its like again.
Honda Civic Type R (EK9) – The Crazy One
› Model: Honda Civic Type-R (EK9)
› Produced: 1997-2000
› Powertrain: 1.6L 4cyl / 5sp Manual / FWD
› Output: 183 HP (185 PS/136 kW) & 118 lb-ft (160 Nm)
› Performance: 6.7 seconds 0-62 mph, 140 mph (225 km/h)
› Weight: 2,315 lbs (1,05 kg)
Related: Here's How Honda Builds The New 2023 Civic Type R In Japan
European Honda fans were introduced to the Civic Type-R in 2001, more than 15 years before the model appeared in North America, but Japanese drivers had been able to buy a CTR as early as 1997, and even today, 25 years later, it's arguably the craziest of the lot.
We're talking about a flyweight 2,400 lbs (1,090 kg) hot hatch that developed an absurd 183 hp (185 PS) from a tiny 1.6-liter B16B motor capable of spinning to 8,400 rpm. Even with Honda's VTEC trickery doing its best to not let that focus on top-end insanity come at the expense of everything at the bottom end, the first Civic Type-R makes just 118 lb ft (160 Nm), and makes you wait until you've got 7,500 rpm on the dial before letting you have it. It's like someone in the Honda press department accidentally copied and pasted the spec box for a Fireblade superbike into the Civic's fact file by mistake.
This isn't a car for the casual hot hatch fan. It's so raw it makes blue steak look burnt, the unusual (for a hot hatch) double wishbone suspension feeling crashy, and the limited slip diff snatchy, when you make half-hearted attempts to go fast. Only when you really commit, and make a concerted effort to keep the engine spinning beyond 6,000 rpm and really work that front LSD to your advantage does it start to make sense. The EK9 Civic might not be the fastest or most powerful Type-R, but that engine alone definitely qualifies it as the most extreme Type-R of any I've driven, and that includes both NSXs.
Honda Accord Type R – The Weirdly Sensible One
› Model: Honda Accord Type-R (European model)
› Produced: 1998-2001
› Powertrain: 2.2L 4cyl / 5sp Manual / FWD
› Output: 209 HP (212 PS/156 kW) & 158 lb-ft (214 Nm)
› Performance: 7.5 seconds 0-62 mph, 142 mph (229 km/h)
› Weight: 2,879 lbs (1,306 kg)
The frenetic nature of the DC2 Integra and EK9 Civic were fine for thrusting young bucks flying solo, but not so great if you needed to bring a wife and kids along and not have Amnesty International on your case. So in 1998 Honda turned its Type R attention to the European-market Accord, adding a JDM Accord Euro R two years later.
They were actually two distinct models, JDM models using the CL1 chassis and Euro cars being based on a different CH1 car. North America, whose Accord was different again, never got the to enjoy the grown-up four-door Type R experience.
Well, it feels grown up compared with the Civic R of the day, at least. The 209 hp (212 PS; 217 hp / 220 PS for JDM Euro R) engine is a relatively big 2.2-liter H22 inline four related to the one in the Prelude, meaning it has a much lower specific output than the Integra or Civic, and when you slot yourself behind the wheel the less aggressive bolsters on the Alcantara-wrapped seats and almost diesel-like 7,500 rpm redline hint at a more laid back nature. But there's still only 159 lb-ft (216 Nm) of torque, and it doesn't peak until 6,700 rpm, so you need Harvard-grade rowing skills to get the best out it and keep up with turbocharged rivals.
These hot Accords (and the later, even-stealthier seventh-generation JDM Euro R) are great to drive in their own distinct way, but they weren't as raw and exciting as a Subaru Impreza WRX or a Mitsubishi Evo, and didn't have the premium pull of a BMW 3-Series. They also feel a little like the odd ones out in this company, making them the weirdest cars in the Type R story.
Honda Civic Type R (EP3) – The One That Shocked The Euro Hot Hatch Establishment
› Model: Honda Civic Type-R (EP3)
› Produced: 2001-06
› Powertrain: 2.0L 4cyl / 6sp Manual / FWD
› Output: 212 HP (215 PS/158 kW) & 149 lb-ft (202 Nm) JDM-spec
› Performance: 6.5 seconds 0-62 mph, 146 mph (235 km/h)
› Weight: 2,668 lbs (1,210kg)
The regular European EP3 Civic's odd minivan styling and strange dash-mounted gearshift didn't exactly make it look like the best basis for a genre-defining hot hatch when it was unveiled in 2000. But the UK-built Type R that followed a year later became the GTI to beat, making every other rival look, slow, dull and expensive.
Keeping that price down meant European-market cars weren't quite as tasty as those that left the same Swindon factory but were then packed on a boat for Japan. Euro cars missed out on the JDM's model's limited slip diff until close to the end of production and their new, chain-driven, K20 2.0-liter motors were detuned from 212 hp (215 PS) to 197 hp (200 PS).
But the EP3 Type R was a riot in any form, a breath of fresh air in a segment that even then had become dominated by torquey turbocharged hatches that we're easier to live with but didn't make life worth living in the same way the Honda did. Oh, and that weird minivan body and strange dash-mounted gearshifter? They just meant you could still feel like a Touring Car driver when you picked up your new refrigerator from the electrical store.
Honda Civic Type R (FD2) – The Sedan That Thought It Was A GT3
› Model: Honda Civic Type-R (FD2)
› Produced: 2007-11
› Powertrain: 2.0L 4cyl / 6sp Manual / RWD
› Output: 222 HP (225 PS/166 kW) & 159 lb-ft (215 Nm)
› Performance: 6.3 seconds 0-62 mph, 149 mph (240 km/h)
› Weight: 2,800 lbs (1,270 kg)
Honda Europe followed up the boxy EP3 Type R with the zany helmet-shaped FN2, whose wild styling drew in buyers and drew attention away from the fact that the new car was fatter and no faster than the car it replaced. The EP3 was a cool-looking thing, but what really spoiled it for me even more than the lack of any great leap forward in performance or handling was jumping behind the wheel of the very different JDM Civic Type R FD2 sedan that was sold in Japan alongside the new hatch. To this day it's the closest thing to a four-door 911 GT3 RS I've ever driven.
The FD2's three-box sedan shape (also sold in the U.S, though not in Type-R form) looked old fashioned in comparison to the EP3 with its multitude of triangular design features, but it was available in Championship White, unlike the Euro EP3 hatch, and anyway, it was what was hiding underneath the skin that mattered. The EP3 had a cheap torsion beam rear-end, open diff and efficiency-minded electric power steering, but the JDM car got a multi-link rear, limited-slip front axle and a hydraulic rack that delivered the peachiest steering feel.
There was more a heap more power, too. While the UK-spec FN2's K20 2.0-litre twin cam made 198 hp and 142 lb ft, the JDM FD2 put out a stomping 221 hp and 159 lb ft courtesy of its K20A four-cylinder thanks to goodies like high compression pistons. The FN2 hatch revved to 8,200 rpm, the FD2 to 8,600 rpm, and that was just one way in which it managed to completely recapture the spirit of the old DC2 Integra Type-R in a way the European hatch didn't.
Related: The Holy Grail Of Honda Civics Comes With A Holy-Moly $127,000 Price
In a mid 2000s episode of the British TV show Fifth Gear, Vicki Butler Henderson pitted the FN2 against the FD2 around a wet Castle Combe race circuit and found the sedan 3 seconds quicker, while Japan's Best Motoring discovered an FD2 could lap its test track a second faster than even an S2000.
What strikes you most about driving the FD2 is just how pure and focused it is. There are no gimmicks, no endless driving modes, nothing fake, and though it's got four doors and back seats, that stuff was almost incidental and was never allowed to compromise the FD2's driver's car credentials. Even Alfa Romeo's Giulia GTAm feels like a 7-Series in comparison. NSXs aside, this is still the Type-R high water mark for me for pure excitement.
Honda Civic Type R (FK8) – The One To Beat
› Model: Honda Civic Type-R (FK8)
› Produced: 2017-21
› Powertrain: 2.0L 4cyl turbo / 6sp Manual / FWD
› Output: 306 HP (310 PS/228 kW) & 295 lb-ft (400 Nm)
› Performance: 5.2 seconds 0-62 mph, 169 mph (272 km/h)
› Weight: 3,121 lbs (1,416kg) Touring model
Volkswagen Golf R, Toyota GR Corolla, hi-spec versions of the Subaru WRX: there are any number of performance cars that the new 2023 FL5 Civic Type-R has to beat, but what we're interested in is whether it makes a big enough leap forward over the outgoing FK8.
Not that there was much wrong with the way the old car drove. The first Type R available in North America since the Acura Integra departed in 1998, and the first one in the region ever to wear a Honda badge, the FK8 makes a mockery of every misguided jibe that front-wheel drive cars can't be as fun as those that push from the rear.
Or that a Type R needs to be naturally aspirated. No, the 306 hp (310 PS) K20C1 engine isn't as characterful, as tuneful, or as high-revving as an old B18C, but it's still a great motor with a decent kick at the top end and the kind of monster mid-range dig old-school Type Rs could only dream of.
We were pleased to see Honda stuck to the same recipe – non-hybrid, front-wheel drive, manual 'box – for the 2023 FL5 Type-R but the new car doesn't have a heap more power (315 hp / 320 PS), and it's slightly heavier. Factor in the less flamboyant styling and you can see why some current Type-R owners might not think it's worth trading up to the new one. Until they climb inside, that is. The 11th-generation Civic's interior design and material quality is night and day better. Whether that's what really matters in a Civic Type-R, we'll leave up to you to decide.
What's your favorite from 30 years of Type-R, and how do you think the latest FL5 ranks alongside its Type R ancestors? Leave a comment and let us know.