Hummer H1 Vs. Suzuki Jimny Drag Race Is The Automotive Equivalent Of David Vs. Goliath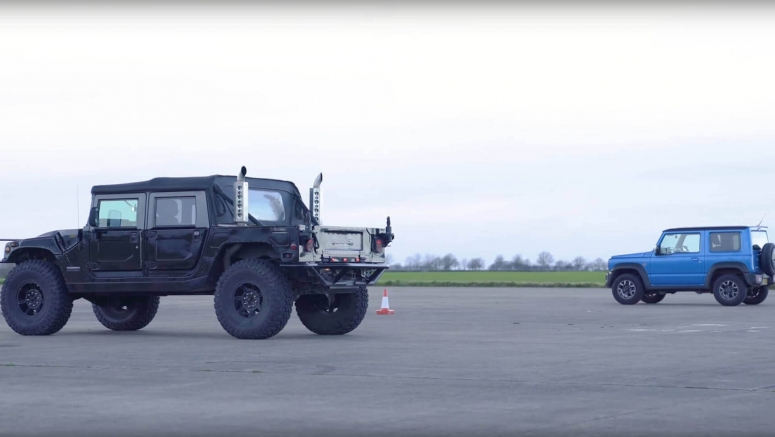 The Suzuki Jimny would probably fit in the back of the Hummer H1, but make no mistake, this is a proper off-roader with all the bells and whistles, including a body-on-frame chassis, low-range transmission, short overhangs and four-wheel drive.
While the new Jimny could make its way through the woods by going around most obstacles, the H1 would redecorate the course. However, the two didn't meet away from the civilized world, but on an empty airfield, which was used as the battleground for a series of tests.
Driven: 2019 Suzuki Jimny Is Impossible Not To Love
The first one is a good old drag race, and it was really anyone's guess who would come out on top. The H1 packs a 6.5-liter turbodiesel V8 with 197 HP and 430 lb-ft (583 Nm) of torque. It has a four-speed automatic transmission and all-wheel drive, and weighs a massive 7,935 lbs (3.6 tons). The Jimny, on the other hand, tips the scales at 2,425 lbs (1.1 tons) and features a 1.5-liter naturally aspirated engine with 101 HP and 96 lb-ft (130 Nm). It too comes with AWD and uses a five-speed manual gearbox.
The second test saw the two going head-to-head from a 30 mph (48 km/h) rolling start in third gear, and was as bonkers as the previous one. Finally, the war ended with a brake test, from 50 mph (80 km/h). Can the small Japanese off-roader beat the venerable Hummer? Well, what do you think?