Lexus Lc500 And Toyota Supra Are Very Different Yet Quite Well Matched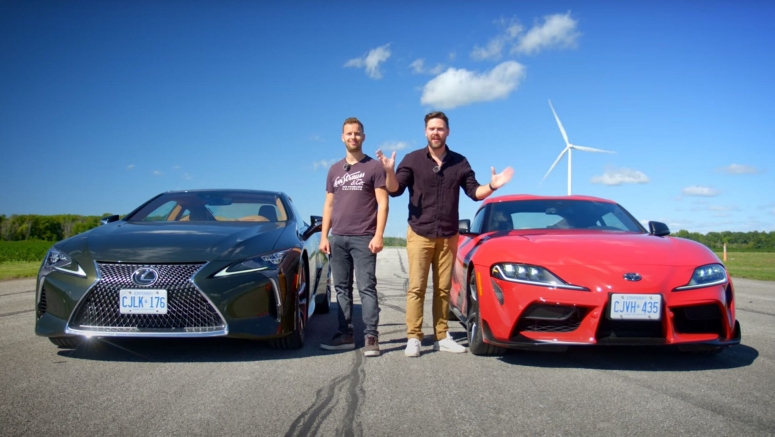 The 2021 Lexus LC500 and 2021 Toyota Supra are two hugely desirable cars and while they both come from the conglomerate that is Toyota, they couldn't be any more different.
Sure, both the LC500 and Supra are sleek two-door coupes that offer superb performance, but they target vastly different buyers. However, this didn't stop Throttle House from gathering the Japanese duo together for a series of drag races.
Powering the Lexus LC500 is a 5.0-liter naturally aspirated V8 delivering 471 hp and 398 lb-ft (539 Nm) of torque. While this engine is well down on power from the twin-turbocharged and supercharged V8s that the LC's rivals use, it is still one of the best-sounding engines on the market. Coupled to the engine is a 10-speed automatic transmission powering the rear wheels and, according to Lexus, the coupe can hit 60 mph (96 km/h) in just 4.4 seconds.
Read More: 2021 Lexus LC Coupe Drops Weight And Gets A Sportier Suspension Setup
By comparison, the latest Supra is powered by a turbocharged 3.0-liter inline-six with 382 hp and 368 lb-ft (499 Nm) of torque. This engine is joined by a ZF eight-speed automatic transmission with rear-wheel drive and results in a 0-60 mph time of 3.9 seconds.
The key reason why the LC500 cannot match the Supra off the line comes down to weight. Whereas the Lexus weighs 4,280 lbs (1,941 kg), the Supra is a relative lightweight at 3,400 lbs (1,542 kg).