Nissan Has Officially Produced Half A Million Leaf Evs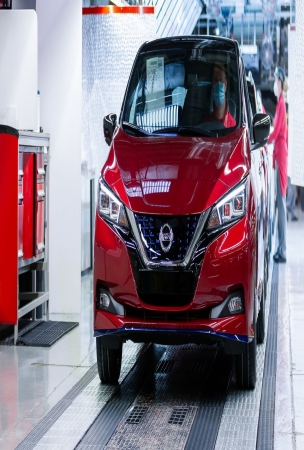 Nissan has delivered the 500,000th example of the Leaf to its owner in Norway in celebration of World EV Day.
Nissan's production milestone took place almost a decade after the original Leaf first went on sale, at the company's factory in Sunderland, UK. The British factory has produced more than 175,000 Leaf models since production began there in 2013.
The 500,000th Nissan Leaf was delivered on September 1 to its owner, Maria Jansen, in Norway. "My husband and I chose to buy a Nissan Leaf back in 2018, and we loved it," Jansen said. "We're very excited to become the proud owners of the 500,000th Nissan Leaf. This car really meets our needs with extended range and enhanced technologies."
Read More: New Nissan Qashqai / Rogue Sport Spied Inside And Out
Nissan offers the Leaf with two battery packs, the base 40 kWh and the 62 kWh E+ model. The base Leaf with the 40 kWh pack offers a driving range of up to 168 miles (270 km) while the Leaf E+ achieves 239 miles (385 km) in the WLTP cycle.
The bigger battery variant of the Nissan Leaf also features a more powerful 214 HP electric motor, over the base model's 148 HP, and it's compatible with fast-charging. The 62 kWh battery pack is also 25 percent more energy-dense than the standard pack but it also makes the car heavier by 331 lbs (150 kg).
The Nissan Leaf features the company's ProPilot semi-autonomous driving system, as well as e-Pedal technology that allows one-pedal driving.
Nissan's next chapter in the EV world will be the 2022 Ariya, a fully electric SUV that will be offered in four different variants and the choice between a 65 kWh and a 90 kWh battery pack. The upcoming Nissan Ariya will offer a driving range of up to 379 miles (610 km).
Photo
Gallery