Toyota Land Cruiser 300 Gets A Sporty Bodykit From M'z Speed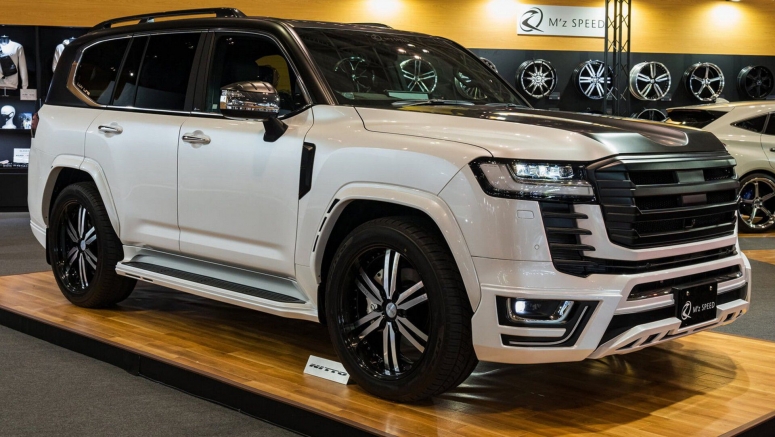 The Toyota Land Cruiser Series 300 has been on sale for a few months but it has already grasped the attention of tuners from all around the world. After the off-road-focused proposal by Arctic Trucks, and the sporty bodykits from Modellista and Liberty Walk, the Japanese tuner M'z Speed showed its own tuning package in Tokyo Auto Salon.
M'z Speed is offering a complete set of visual modifications sold under "Exclusive Zeus LUV Line" making the Series 300 appear lower, sportier, and meaner for those who want their Land Cruiser to look like that.
See Also: Lexus And Jaos Present Off-Road Focused LX 600 For Tokyo Auto Salon
At the front, there is a new grille without Toyota's emblem for a de-badged look, and a bumper extension with more intakes, a more aggressive skid plate, and extra DRLs that double as turn signals. New fender flares with integrated decorative inlets are available in body color, in grainy matt black, or with a carbon-fiber style wrap. The side steps are more pronounced than the stock units, while there are mirror covers and a decorative duct on the front fenders.
Moving over at the back, M'z Speed added a lip spoiler in the base of the rear windshield, and a bumper extension resembling a diffuser that houses additional LED brake lights and optional quad tailpipes finished in carbon or stainless steel. The display car also gets a duo-tone treatment with black paint on the bonnet, roof, pillars, and trunk, plus a set of aftermarket six-spoke wheels.
See Also: TOM's Racing Releases Toyota Supra, GR86, And Lexus GS-F With More Horsepower
M'z Speed has left the Land Cruiser's mechanical bits alone. Toyota is offering the latest version of its iconic SUV with either the stock twin-turbo 3.5-liter V6 petrol producing 409 hp (305 kW / 415 PS) or the twin-turbo 3.3-liter V6 diesel producing 304 hp (227 kW / 309 PS). In both cases, power is transmitted to all four wheels through a 10-speed automatic gearbox.
The price for the full bodykit by M'z Speed is ¥330,000 ($2,881) if you order it unpainted, rising to ¥474,100 ($4,139) for the painted set. This doesn't include the extra LEDs or the quad tailpipes that will be offered at an extra cost. Another thing that is not included is installation, but at least there is a how-to video that you can check out before applying it yourself.
Photo
Gallery