Toyota Yaris Ecovan Is A Small Commercial Vehicle With Hybrid Powertrain, Plenty Of Cargo Space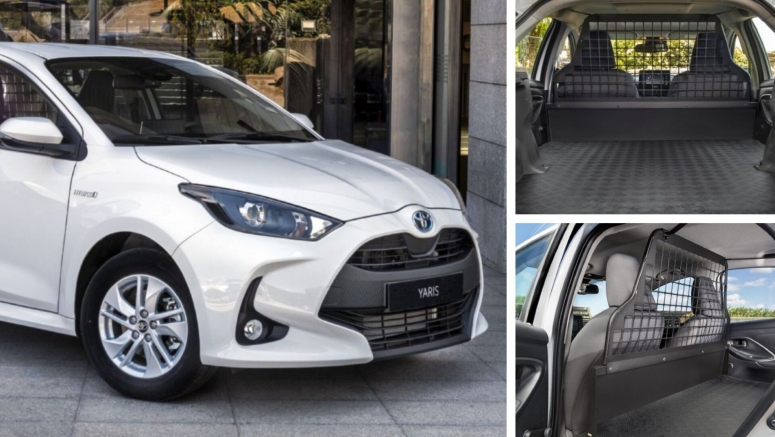 One year after the launch of the fourth-generation Toyota Yaris in Europe, the ECOVan variant appeared in Spain as a hybrid light commercial vehicle bringing more cargo space into the mix.
From the outside, the Yaris ECOVan looks identical to the Japanese supermini that has been named the 2021 European Car of the Year – except if you go for the optional vinyl-covered rear windows. However, things are quite different inside the cabin, with the removal of the rear seats allowing for a significantly increased cargo space. As a result, the Yaris ECOVan can fit 720 liters of cargo, up from the 286 liters of the passenger version. The flat floor boot with a surface area of 0.9 m³ is made of wood, covered by a durable and textured rubber mat.
There is also a safety partition grid behind the seats and special mounts for securing large and heavy items. The Yaris can handle a cargo weight of up to 430 kg, which is on par with most of its rivals in the half-ton LCV segment.
Read Also: 2020 Toyota Yaris Launched In Europe With New 114 HP Hybrid Powertrain
While the passenger version of the Yaris is also sold in Europe with 1.0-liter and 1.5-liter petrol engines, the ECOVan is exclusively available as a hybrid, allowing it to move freely in the center of Madrid. This powertrain combines a three-cylinder 1.5-liter engine with an electric motor for a combined output of 114 hp (85 kW / 116 PS) and 120 Nm (88.5 lb-ft). Power is sent to the front axle through an e-CVT automatic gearbox.
The Yaris ECOVan is available in two trim levels. Standard equipment in the base Business Plus includes the Toyota Safety Sense ADAS systems, a 7-inch touchscreen for the infotainment system, LED headlights, air condition, and 15-inch alloy wheels. The Active Tech adds LED taillights, an 8-inch touchscreen with a rear-view camera, smart entry and keyless go, and a leather-wrapped steering wheel.
See Also: Suzuki Jimny Returns To UK As Two-Seater LCV From £16,796
The Yaris ECOVan is pricier than the five-seater Yaris, with the conversion adding €1,300 ($1,535) plus VAT to the price of the base model. This means that the tiny LCV starts from €23,373 ($27,587) for the Business Plus trim level and from €24,498 ($28,915) for the Active Tech. At the moment, the Toyota Yaris ECOVan is only available in Spain but it will probably be offered in other European markets in the near future.
H/T to Motorpassion
Photo
Gallery