What Does A Pro Racing Driver Think Of Honda's 2020 Civic Si Coupe?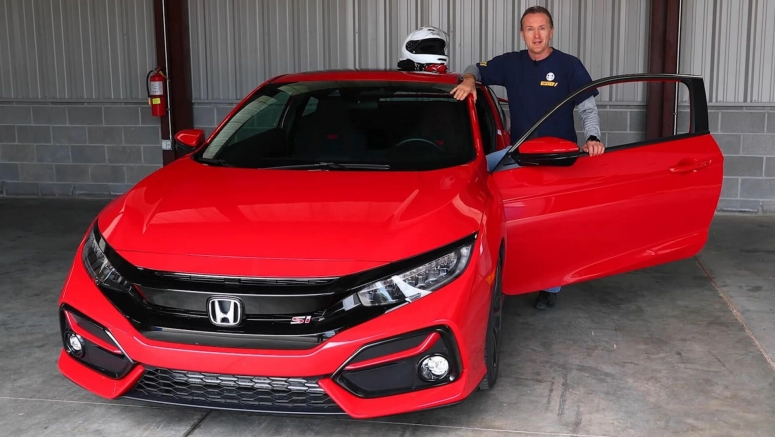 This is the Honda Civic Si Coupe, a sporty compact with a $25,200 MSRP in the United States, which is a more tamed variant of the full-blown Civic Type R hot hatch that starts at $36,995 and brings 306 HP to the party.
Powered by a 1.5-liter turbocharged four-cylinder, the Civic Si Coupe has 205 HP and 192 pound-feet (260 Nm) of torque available on tap and comes with a 6-speed manual gearbox. Honda claims that it does the 0-60 mph (0-96 km/h) sprint in over 6 seconds and, flat out, it will do 137 mph (220 km/h).
Watch Also: 2019 Hyundai Elantra GT N Line Takes On 2019 Honda Civic Si
Overall, it feels like an interesting choice in the compact segment, but how good is it? Answering this question is Andy Pilgrim, a pro racing driver who met the model up close recently and put it through its paces at the NCM Motorsports Park in Kentucky.
Before jumping in the driver's seat for a few quick laps on the track, he does talk about the looks, interior, practicality and so on, noting that it has decent boot space, supportive and comfortable front seats and certain design features that resemble the Type R.
Equipped with the Goodyear Eagle F1 optional tires, the Civic Si Coupe was then set loose between the apexes, with Pilgrim at the helm. The mandatory hot lap was timed and recorded on video below, and so were the 0-60 mph sprint, quarter-mile and flying half-mile test. So, what were his overall impressions? The answer is a mouse-click away.