1989 Jeep Comanche Invites You To Be A Pioneer, Not A Gladiator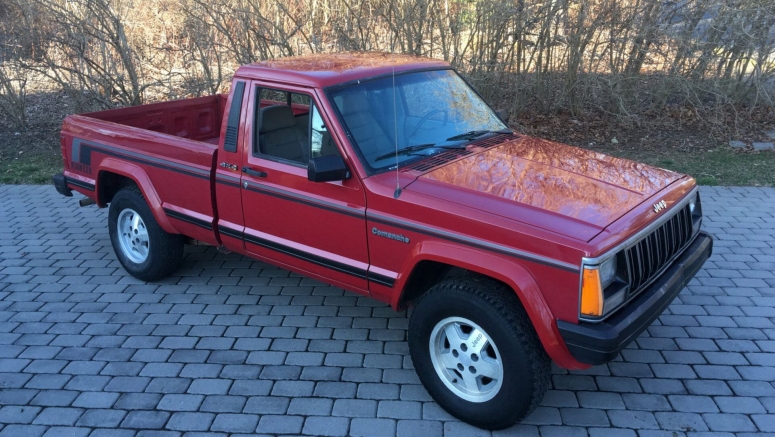 Even though the Gladiator JT was the talk of the town back in 2018 when it was first shown at the Los Angeles Auto Show, it was certainly not the first pick-up truck to wear a Jeep badge.

Take the 80s for example, when Jeep unveiled the Comanche, which was basically a truck variant of the Cherokee XJ, able to operate in both rear-wheel drive as well as all-wheel drive. This red Pioneer example is getting auctioned off through Bring a Trailer.
It also features the six-foot (1.83 meter) long bed, not the seven-foot (2.13 m) one, to go with the Colorado Red exterior, Pioneer decals that run along the sides, black bumpers, 15-inch alloys and a trailer hitch. Before we go any further, we'll admit that this truck is a bit of a fixer-upper.
Read Also: We're Driving The 2020 Jeep Gladiator, What Do You Want To Know?
Inside, there are reclining grey bucket seat with vinyl sides, a three-spoke steering wheel, Kenwood CD player, plus optional extras such as air conditioning, front vent windows, a sliding rear window, cruise control and power steering. Unfortunately, there is some wear on the seats and the headliner has been entirely removed.
Then there's the 4.0-liter inline-six engine with electronic fuel injection – mated to a 4-speed automatic gearbox and a Command-Trac 2-speed transfer case. The engine is said to have done 77,000 miles (124,000 km), with replacements to the water pump, air-intake hose and serpentine belt being installed last year.
Putting one of these trucks in your driveway may not be the most sensible thing you can do, but then again, there can't be that many Comanche Pioneers out there on the road, which adds a bit of exclusivity.
Photo
Gallery