Prosecutors Raid Ad Firm Offices Over Tokyo Olympics Bribery Case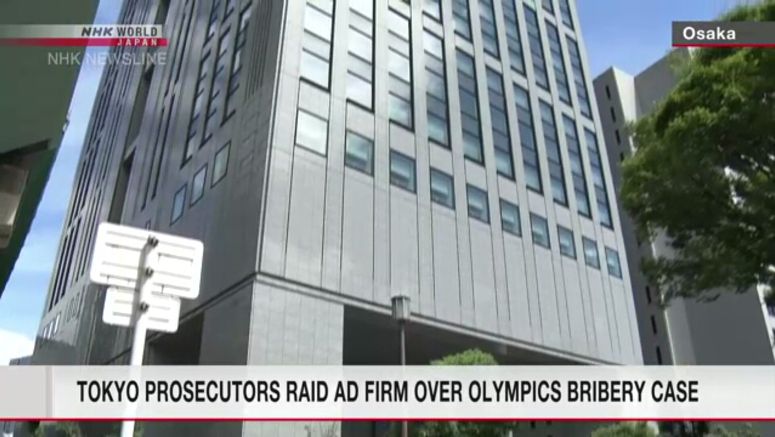 Tokyo prosecutors on Monday raided the headquarters of an Osaka-based advertising agency in connection with a Tokyo Olympics bribery case.
Investigators searched the head offices of Daiko Advertising in Osaka and Tokyo.
The organizing committee of the Tokyo Olympics and Paralympics had looked for Games' sponsors through Japan's largest advertising company, Dentsu.
Sources say Daiko, as a partner agent of Dentsu, was in charge of sponsorship contracts with firms from the service industry and earned over 50 million yen, or about 356,000 dollars.
Later, Daiko is alleged to have sent more than 10 million yen to a company run by an acquaintance of a former executive of the organizing committee, Takahashi Haruyuki.
Tokyo prosecutors have already arrested Takahashi on suspicion of taking bribes from business wear retailer Aoki Holdings over the Games' sponsorship.
The sources say approval from the organizing committee was required to become a partner agent of Dentsu.
The investigators apparently believe that Daiko asked Takahashi a favor so the company would be selected as a partner agent of Dentsu.
Daiko released a comment, which reads that the company is cooperating with the Tokyo prosecutors' investigations.
Meanwhile, NHK has learned that major publisher Kadokawa paid a total amount of 500,000 dollars to the firm run by Takahashi's acquaintance as consultant fees since 2019.
Sources say this acquaintance introduced the publisher to Takahashi, and that Tokyo prosecutors have already questioned its president, Kadokawa Tsuguhiko, on a voluntary basis.
The publisher released a comment saying that the company will voluntarily cooperate with investigations, and is taking the matter very seriously.
It appears that prosecutors are set to shed full light onto how money has allegedly flowed between Takahashi and multiple companies.