Chanthu May Make Landfall In Western Japan Friday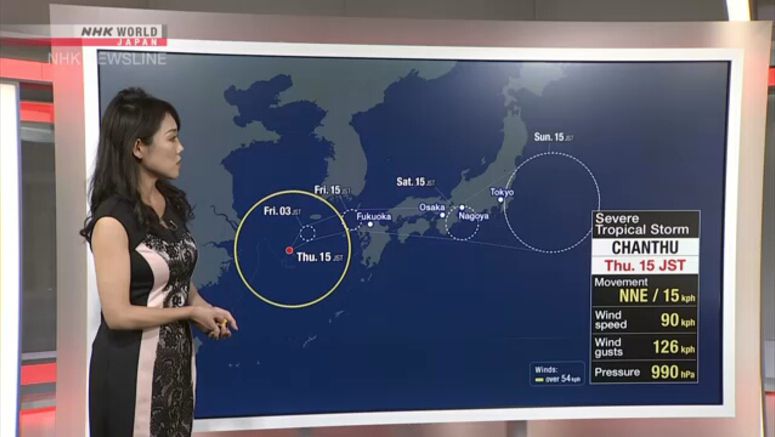 Weather officials say severe tropical storm Chanthu may make landfall in western Japan on Friday.
They are advising people in the storm's path to be on alert and secure their safety during the day on Thursday. The officials say rain and wind may intensify after dark.
Chanthu has been lingering over the East China Sea. The Meteorological Agency says its forecast for the storm has changed.
It had expected Chanthu to change to a low-pressure system near the Tsushima Strait, but now says the storm has developed more than expected since Wednesday night, possibly due to high sea temperatures.
The officials say the storm will gradually change course to the northeast and approach western Japan.
They say a front over southern Kyushu has become active, bringing heavy rain in Miyazaki Prefecture.
Precipitation in the 72 hours through 1 p.m. on Thursday exceeded 600 millimeters at Miyazaki Airport.
The officials say that as the storm approaches, rain and wind may suddenly intensify in western Japan on Friday and in wide areas of western to northern Japan on Saturday. They say heavy rain may be accompanied by thunder in some places.
Up to 200 millimeters of rain may fall in the 24 hours through noon on Friday in northern Kyushu, up to 180 millimeters in Shikoku and 150 millimeters in southern Kyushu.
Rainfall may reach 100 millimeters in the Kinki region and 80 millimeters in the Tokai region.
The Tokai region may receive an additional 300 to 400 millimeters in the 24 hours through noon on Saturday.
Rainfall during the 24 hours may reach 200 to 300 millimeters in the northern Kyushu, Shikoku, Kinki and Kanto-Koshin regions, 100 to 200 millimeters in the Chugoku and Hokuriku regions and 100 to 150 millimeters in southern Kyushu and the Tohoku region.