Experts Approve State Of Emergency Extension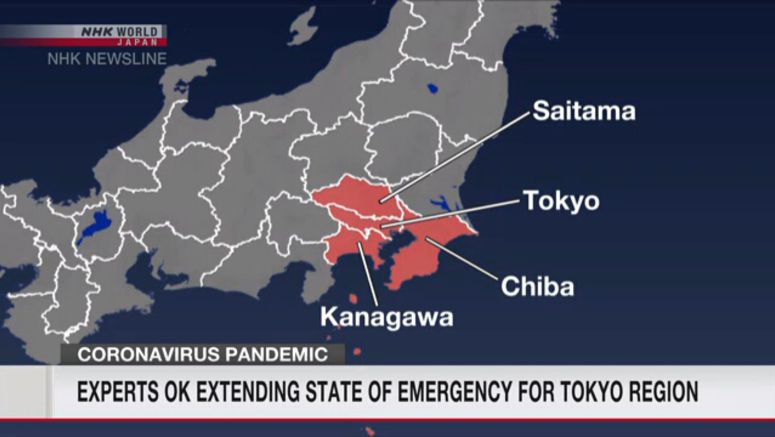 An advisory panel to the Japanese government has approved a two-week extension of the coronavirus state of emergency for Tokyo and three neighboring prefectures.
The declaration has been in place for Tokyo, Saitama, Chiba, and Kanagawa since January 7. It is due to end on Sunday.
The panel of experts held the two-hour meeting from 7 a.m. on Friday. Also attending were the minister in charge of the country's coronavirus response, Nishimura Yasutoshi, and health minister Tamura Norihisa.
Nishimura explained why the government is seeking to extend the state of emergency through March 21.
He said the pace of the decline in the number of new coronavirus cases has slowed in the Tokyo Metropolitan area, noting that it even rose or stopped falling on some recent days.
He said these areas are at Stage 3 of the government's four-tier alert system, but some indicators are still close to the worst levels. He said it is necessary to ensure that the occupancy rates for hospital beds set aside for coronavirus patients will decline in a stable manner.
Nishimura said people's movements increase in March and April and noted that infections began spreading in late March last year.
He also stressed the necessity of reducing the burden on medical institutions, as they will be busy giving vaccinations.
Tamura said the continuing state of emergency will bring inconvenience for the public, but he is committed to the smooth rollout of the vaccines and a secure response to variants.
He said the response will include stopping variants from entering the country, screenings in cooperation with the private sector, enhanced epidemiological surveys, and raising public awareness.
Following the panel's approval, the Diet will deliberate the extension plan. The government's taskforce will make a final decision later on Friday.
Prime Minister Suga Yoshihide will hold a news conference at around 9 p.m. on Friday. He is expected to call on people to continue refraining from nonessential outings and to telework when possible.