Former Pm Kaifu Toshiki Dies At 91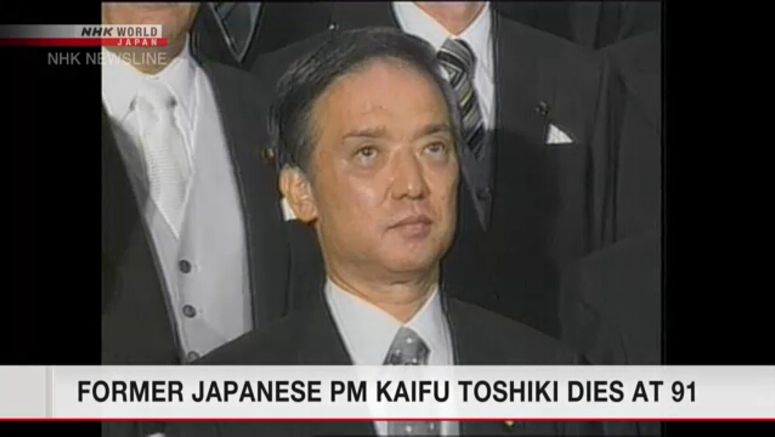 Former Japanese Prime Minister Kaifu Toshiki died on Sunday. He was 91.
Kaifu was first elected to the Lower House of the Diet in 1960, where he served for 16 straight terms.
In 1976, Kaifu joined the Cabinet of Prime Minister Fukuda Takeo as education minister. He held the post again under Prime Minister Nakasone Yasuhiro. He was elected the 76th prime minister in 1989.
Kaifu was the first leader born in the Showa Era, spanning the years from 1926 through 1989.
During his term as prime minister, the Iraqi army invaded Kuwait in August 1990, triggering the Gulf War.
It was Kaifu's decision for the Japanese government to contribute 13 billion dollars to the US-led multinational forces.
Once the truce was in place, Kaifu dispatched Maritime Self-Defense Force vessels to the Persian Gulf for minesweeping operations. The move was fiercely debated, as it was the SDF's first overseas mission since its launch in 1954.
Kaifu stepped down as leader in 1991 after failing to overcome strong opposition from his fellow Liberal Democrats to pass a draft law aimed at electoral reform.
It was a time of major realignment of political parties. Kaifu left the LDP and formed the New Frontier Party in 1994. It won a considerable number of seats in the Diet before disbanding in 1997.
Kaifu went on to serve as senior advisor for now defunct opposition parties. In 2003, he returned to the LDP.
Kaifu retired from politics after an unsuccessful bid for a Lower House seat in 2009.