Four Candidates Kick Off Ldp Leadership Campaign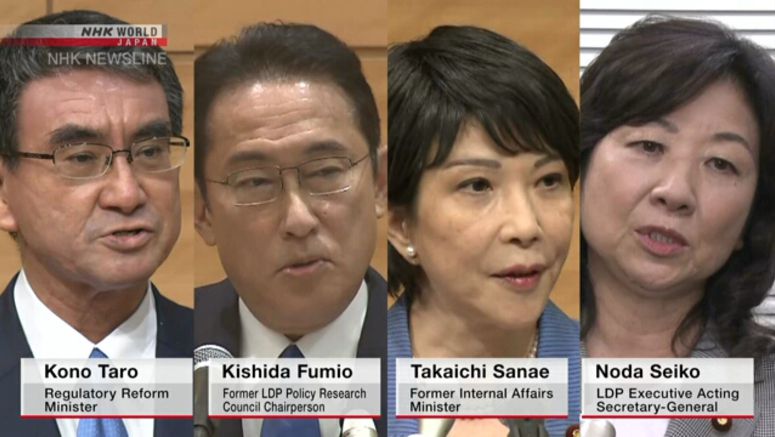 Four contenders are fighting for control of Japan's main ruling Liberal Democratic Party -- and, effectively, the country. The leadership campaign has just kicked off.
Prime Minister Suga Yoshihide is out of the race and its outcome is far from assured.
These candidates have officially thrown their hats into the ring. Kono Taro is the current Regulatory Reform Minister. Kishida Fumio is a former LDP Policy Research Council chairperson. Takaichi Sanae is a former Internal Affairs and Communications Minister. And Noda Seiko is the LDP Executive Acting Secretary-General. It is the first time that two female candidates are vying for the top post.
Campaigning will likely focus on anti-coronavirus measures, and how to get the economy and health care system back in shape.
Defense and foreign policy could also be on the agenda.
There are 766 votes up for grabs. Half are direct votes from LDP Diet members. Another 383 votes will be decided on by more than a million rank-and-file members and supporters. Officials at LDP headquarters will distribute the votes, according to proportional representation. If no one wins more than half of the votes, a runoff between the two top candidates will determine the winner.
On Friday, the candidates will explain their policies at LDP headquarters and hold a news conference. The winner will be decided on September 29.