Hiroshima Marks 77th Anniversary Of Atomic Bombing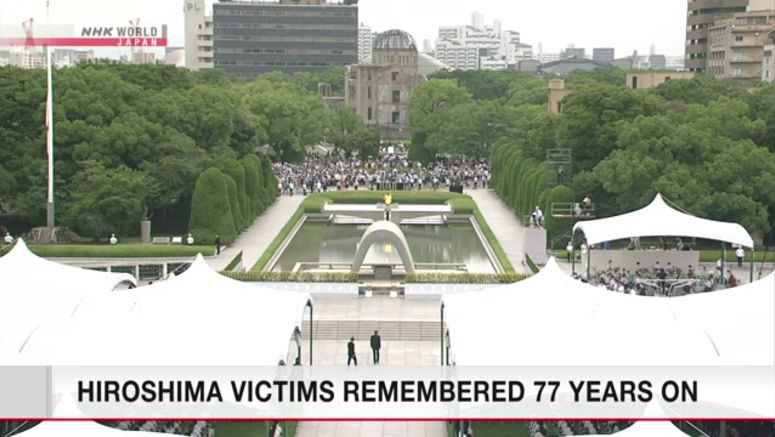 People in Hiroshima are marking the 77th anniversary of the atomic bombing that devastated the city in the final days of World War Two. Thousands of people gathered on Saturday morning for an annual ceremony at the city's Peace Memorial Park.
Japanese Prime Minister Kishida Fumio was joined by representatives from 99 countries, as well as UN Secretary-General Antonio Guterres, the first UN chief to attend the event in 12 years.
More than 3,000 members of the public also turned out for the ceremony, a substantial increase on the crowds in 2020 and 2021, the first two years of the coronavirus pandemic.
Officials placed a list of victims of the bombing back in a cenotaph, following the addition of the names of 4,978 people who died or were confirmed dead over the past year. The total now stands at 333,907.
Participants paused for a moment of silence at 8:15 a.m., the exact time the United States dropped the bomb on August 6, 1945. The blast and ensuing fallout killed about 140,000 people by the end of that year and exposed many more to harmful radiation.
Seventy-seven years on, the movement to abolish nuclear weapons is facing significant challenges. Russia is threatening to use them against Ukraine, and more countries say they are an important deterrent against attacks.
In his peace declaration, Hiroshima Mayor Matsui Kazumi noted that people around the world increasingly believe nuclear deterrence is a precondition to peace.
But he said the only way to fundamentally ensure the protection of life and property is by getting rid of nuclear weapons altogether. He urged leaders of nuclear states to visit Hiroshima and Nagasaki, the other Japanese city decimated by a nuclear bomb, to observe for themselves the consequences of a nuclear attack.
Prime Minister Kishida Fumio told the gathering that Japan will tread a path toward a world without nuclear weapons "however narrow, rocky and difficult it may be." He said Japan will pursue this goal despite global security tensions, and while following the three principles of not possessing, producing or permitting the introduction of nuclear weapons into the country.
The average age of atomic bomb survivors is now more than 84, meaning their dream of one day seeing a world free of nuclear weapons is fading.