Japan Innovation Party Kicks Off Campaign To Pick New Leader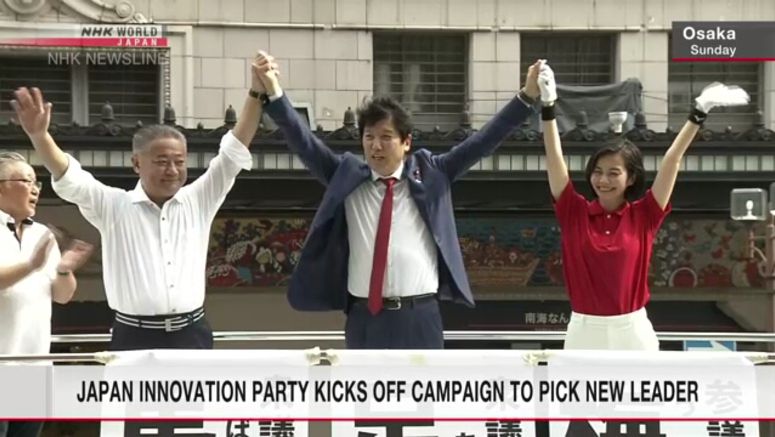 People in Japan are watching to see who becomes the new leader of the major opposition Nippon Ishin, or Japan Innovation Party.
An election will be held in the coming weeks to decide who takes over from current head Matsui Ichiro.
Japan Innovation Party held a public rally in the western city of Osaka on Sunday.
Three Diet members have kicked off their campaigns for the party leadership.
Lower House member Adachi Yasushi told a campaign session "I think the party needs to create a system in which all members, supporters and volunteers come first. I call this party-member democracy. The party should build a firm organization made up of national and regional units."
Meanwhile, Japan Innovation Party Co-head Baba Nobuyuki said "I do believe what the party has done so far under Matsui's leadership is absolutely not wrong. I want to reform the party further, and carry out politics so that Japanese people and taxpayers become happier than before."
Upper House member Umemura Mizuho said, "The party has to become the largest opposition party, and the best party in the country. It faces a challenge in that the level of support among young people and women is quite low. We need to change the party's image in a positive way."
The forerunner of Japan Innovation Party was created in Osaka in 2010. The party first ran candidates in national elections two years later. It's now the second-largest opposition force in the Diet.
Incumbent leader Matsui has said he will retire in April when his term as Osaka mayor ends.
More than 580 special party members, including Diet and local assembly members, as well as over 19,000 ordinary members, have one vote each in the election.
A new party head is scheduled to be chosen at an extraordinary party conference on August 27th.