Japanese Pm, Eu Leaders Discuss Russia, Indo - Pacific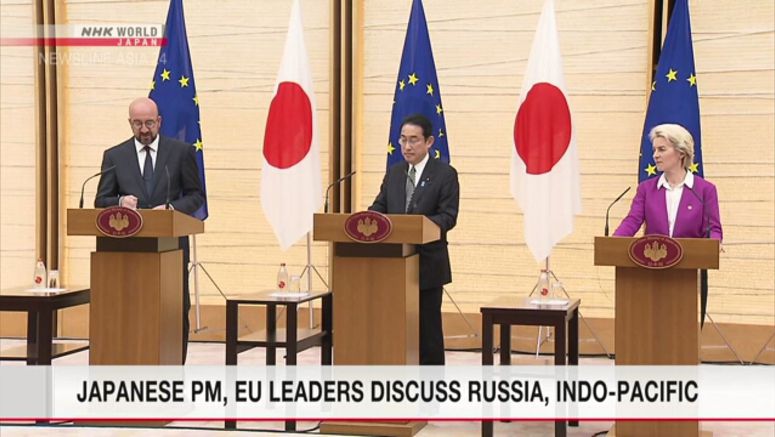 The European Union says it wants to take a more active role in the Indo-Pacific. That was one of the main take-aways from Thursday's meeting between Japan's prime minister and EU leaders.
European Council President Charles Michel and European Commission President Ursula von der Leyen are in Tokyo. They met with Japanese Prime Minister Kishida Fumio. Russia's ongoing invasion of Ukraine was a big focus.
Kishida said, "Japan will cooperate with the G7, which includes the EU, to impose sanctions on Russia. We will continue to support Ukraine."
Kishida said they agreed to call on other Asian and African nations for cooperation in responding to the conflict.
Michel underlined the importance of the EU and Japan's partnership. He said, "Together we are providing significant humanitarian, financial and military support for Ukraine and its people. We also stressed our cooperation to prevent the circumvention of sanctions and to combat disinformation, and we are convinced those responsible for war crimes must be, and will be, brought to justice."
Security in the Indo-Pacific, where China's influence is growing, was also on the agenda for Thursday's meetings.
The three leaders agreed that stronger ties will help to maintain a "free and open" region for all.
Von der Leyen said, "The Indo-Pacific region is a thriving region. It is a theater of tensions. Take the situation in the East and South China Sea or the constant threat of the DPRK."
This is the EU leaders' first visit to Japan since they took office in 2019. Michel plans to visit the Peace Memorial Museum in Hiroshima on Friday.