Ldp Leadership Campaign Begins Friday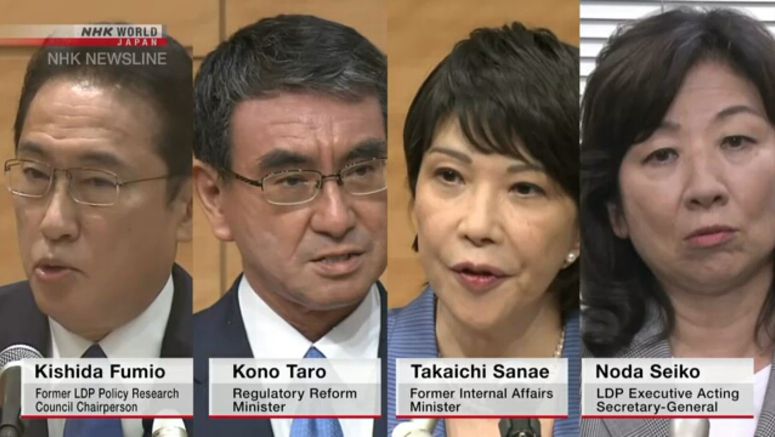 The race to lead Japan's main ruling Liberal Democratic Party -- and effectively the country -- is about to begin. Lawmakers need to file their candidacy papers Friday if they want to succeed Prime Minister Suga Yoshihide who is not seeking re-election.
Several have already said they intend to run. Kishida Fumio is a former LDP Policy Research Council chair. Kono Taro is the current Regulatory Reform Minister. Takaichi Sanae is a former internal affairs minister. And Noda Seiko is the LDP Executive Acting Secretary-General.
Campaigning will likely focus on anti-coronavirus measures, and how to get the country's economy and health care system back in shape. Defense and foreign policy could also be on the agenda.
Both sitting representatives and rank-and-file party members will have a say.
A total of 383 LDP lawmakers will each get a vote.
Party members and supporters across the country will decide on another 383 votes, which officials at LDP headquarters will distribute according to proportional representation. If no one wins a majority, a runoff between the two top candidates will determine the winner.
The election is scheduled for September 29.