Ministry Unveils Report On Wining & Dining Scandal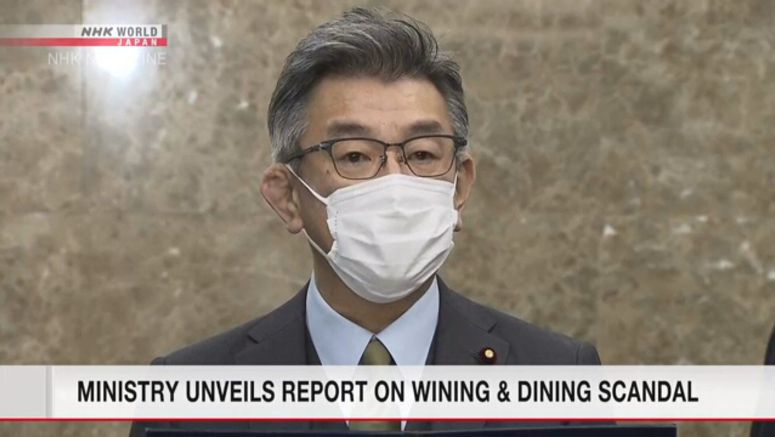 Japan's communications ministry has released an interim report acknowledging that government officials were wined and dined by the president of telecom giant NTT. The report says the officials' actions violated the ethics code for public servants, which bans them from receiving gifts or being entertained by interested parties.
The central figure is Taniwaki Yasuhiko, the vice minister for policy coordination. Communications Minister Takeda Ryota says he was moved to the minister's secretariat on Monday.
The ministry had conducted an internal investigation prompted by a report in a weekly magazine that said Taniwaki was treated to expensive meals by NTT's president and other executives at the firm.
The interim report says the company treated Taniwaki to three meals worth over 920 dollars over the past three years.
The ministry had previously investigated another wining and dining scandal involving a satellite broadcaster, where the son of Prime Minister Suga Yoshihide works. Taniwaki was one of several officials who admitted he received the favor. He was disciplined with a pay-cut last month.
Communications minister Takeda said on Monday that Taniwaki was repeatedly questioned about more violations of the ethics code involving other companies. He didn't mention dining with NTT executives in the earlier probe.
In the Upper House budget committee on Monday, opposition lawmakers criticized the ministry's handling of the matter. They called for the communications minister's resignation.
Constitutional Democratic Party lawmaker Kidoguchi Eiji said, "We are seeing more facts disclosed than we previously knew about. We can't trust them."
Prime Minister Suga said that the communications minister should work to clarify the matter. Suga said, "I think the minister's responsibility is to conduct a thorough investigation and carry out improvements. I would like the minister to disclose the truth and fix the ministry."
Another disclosure in the report is that one of the meals given by NTT was attended by Kanasugi Kenji. He served as senior deputy foreign affairs minister at the time and is now the ambassador to Indonesia.
The communications ministry also found that Makiguchi Eiji, director-general of the global strategy bureau, was entertained by NTT in June of last year. The interim report says Makiguchi also violated the ethics code.
The two senior officials told the ministry they were aware the telecom giant was an interested party. But they denied having any conversations that would benefit the company. Takeda says the ministry will expand its probe.